September 22, 2016 - National Teams of Ice Hockey
ice hockey one timer tips to winning
Date: September 22, 2016
Team USA ends disappointing World Cup with loss to Czechs
The United States wrapped up a disappointing, win less performance at the World Cup of Hockey with a 4-3 loss to the Czech Republic on Thursday night.
Previous losses to Team Europe and Canada eliminated the U.S. from contention, and its round-robin finale had no meaning for either team. With an 0-3-0 record and a minus-6 goal differential, the U.S. finished seventh among eight teams, ahead of only Finland.
Joe Pavelski, Justin Abdelkader and Ryan McDonagh scored for the U.S., which did not unravel in a meaningless game like it did in the 2014 Olympic bronze medal game. Ben Bishop allowed four goals on 20 shots in two periods, and Cory Schenider made seven saves in relief.
Petr Mrazek stopped 36 of the 39 shots he faced to backstop the Czech Republic to its first victory. Milan Michalek s cored twice and Zbynek Michalek and Andrej Sustr each had a goal.
U.S. players promised they wouldn't mail it in with nothing to play for. A result of human nature, it felt like an all-star game with a lack of real physicality as everyone wanted to get through without getting injured.
Frustration boiled over for Dustin Byfuglien at the final buzzer as he went after Czech defenceman Michal Jordan.
A collection of fans spent stretches of the first period chanting, "Let's go Kessel!" and "We want Kessel!" Stanley Cup-winning Pittsburgh Penguins winger Phil Kessel was left off the U.S. team and made light of that on Twitter on Tuesday night after the Americans lost to Canada.
That was a must-win game for the U.S. after opening the tournament with what Patrick Kane called a "dud" against Europe. General manager Dean Lombardi blamed not being prepared for that game for the U.S. bowing out of the World Cup.
"I don't think we showed enough respect for the talent on that team," Lombardi said Thursday morning.
Lombardi said that the 3-0 loss to Europe put the U.S. behind the "proverbial 8-ball" that felt like a boulder. The Los Angeles Kings GM has seen his team come back from a 3-0 playoff deficit but described the locker room after losing to Europe as tight, and the U.S. was never able to adequately respond.
Getting almost skated out of the rink by Canada wasn't entirely unexpected, but players acknowledged their recipe to move on was to beat Europe and the Czech Republic. They didn't do either, and USA Hockey faces plenty of questions about how it will bounce back for the 2018 Olympics.
That's if NHL players even participate, or the U.S. might have to wait until the next World Cup, which will make it a long four years.
Russia beats Finland to advance to semis, North America out
Vladimir Tarasenko a nd Ivan Telegin scored 1:19 apart in the second period and Russia beat Finland 3-0 on Thursday to set up a World Cup of Hockey semifinal against Canada — and knock out Team North America.
"The opportunity is huge," Russian captain Alex Ovechkin said about facing Canada. "They have a pretty good team with solid players. We just have to match it. …
"I play Olympic Games in (Canada) and everybody is going to be crazy. The atmosphere's going to be unbelievable. It's going to be a great match to play, to be involved in, to be in the stands and be able to watch."
Evgeni Malkin scored in the third period for Russia (2-1-0), and Sergei Bobrovsky made 21 saves .
"It's going to be a great, great challenge and we accept it," Russian forward Evgeny Kuznetsov said.
Tuukka Rask made 19 saves for Finland (0-3-3). Finland was winless for the first time in a senior tournament, scoring only one goal in three games.
"We had a good chance to succeed here, but you don't score, you can't win," Finnish coach Lauri Marjamaki said. "We have to keep going and maybe analyze a little bit later. Just now, a little bit disappointing."
Russian forward Pavel Datsyuk missed the preliminary round finale because of a minor injury.
"A loss for us, but we did well today," Russian coach Oleg Znarok said.
Russia will face Canada on Saturday night. In the other semifinal, Sweden will play Team Europe on Sunday.
Finland nearly opened the scoring early in the second period when Mikael Granlund beat Bobrovsky glove-side, but rang a shot off the post.
Tarasenko finished off a give-and-go with Ovechkin for his second goal of the tournament at 3:42 of the second period.
Telegin picked up Vadim Shipachev's feed and powered around Rask for his first of the tournament at 5:01 of the second.
Malkin scored his first of the tournament at 3:39 of the third period.
Tarasenko played on the Russian team that beat Canada to win the 2011 world junior title in Buffalo, New York.
"I think this is one of the greatest rivalries ever: Canada against Russia," Tarasenko said. "We know how they play because we play in Pittsburgh before. They have a really good team, good players, (the) best players in the world so we need to be good in a couple days."
How We Play Hockey in Switzerland
O.K., look, I know my name is hard to spell, but get this:
Where I come from in Switzerland, we speak Swiss German, and when I came to America things got pretty tricky with my name. The German i is pronounced like the English e. So I would be at a hotel checking-in or something, and the clerk would ask me to spell my name, and I would get so confused. I would pull out my credit card, look at the letter i and I'd say "eee" just as a reflex.
Come on. Seriously, come on. I have two i's and four e's in my last name. It was like some sort of cruel joke or something.
I struggled with it every time I had to sign some paperwork. I'd get asked to spell my name and I'd have to pull out my credit card and double-check.
People would look at me funny and I'd say, "Sorry, I'm Swiss."
Then they'd be even more confused.
Things are a little different where I come from.
Cobblestone roads, snow-covered roof tops and two massive mountains on either side.
My hometown of Chur is nestled in the shadow of the Swiss Alps.
It's a small town, and the only thing that could disturb the quiet in my neighborhood was the sound of rubber colliding with wood.
The noise would bounce off the mountains.
In the darkness of winter, I'd practice slap shots for hours on end.
In Switzerland, the winters are long. For three months, we didn't get any sun in our backyard because of the shade of the mountains — which meant we could make a lot of one thing.
My dad used to get up in the middle of the night and water down the yard with a hose. Because of how difficult it was to import hockey equipment into the country, almost everything was homemade. Luckily, my dad was a steelworker.
He built little boards to go around the makeshift rink, and he even made a regulation-size goal out of some iron piping. (He painted the posts red, of course.) Kids from all over town would come over to my house to play, and we'd wear jerseys that would drape past our knees and do our best impressions of our idols.
Not the idols you might suspect, though.
In Switzerland we never got NHL games on TV. It was all about EHC Chur, our local team. My favorite player growing up was Harijs Vītoliņš. He was a big, strong center for Chur in the '90s.
The only exposure we got to the NHL was through video games. Yeah, we'd heard of guys like Gretzky, but the current NHL players seemed so far away. Our heroes played down the street from us.
NHL 2003, with Jarome Iginla on the cover, was the best. I played on PlayStation when my friends would come over, and that's where I found Mike Modano.
I loved his style. The jersey whipping off his back, the slick hands and, of course, that big shot.
I loved to shoot — I still do.
Most kids in Canada and the U.S. grow up firing pucks at a thick polyester target called a shooter tutor. It's got a picture of a goalie on it and you shoot the puck into holes in the corners. But my dad actually carved his own shooter tutor out of wood, and even nailed on an old glove and blocker. He painted different color targets in the corners and I'd shoot and shoot and shoot.
Whack. It made a big sound.
I wanted to shoot like Modano did, but I didn't have the strength. So what did I do? I did the practical thing. I started working on my wrists and forearms. My mom's uncle was a professional weightlifter, so he started me out early. Wrists curls with easy weights so I didn't hurt anything. He'd always remind me that a good shot started in the gym and finished in the back of the net.
I was always good with my hands, and I initially wanted to be a plumber in Chur. In Switzerland, you can't just drop out of school and go work. You need to go to college for three years before you can be certified as a professional. So I actually started my apprenticeship as a plumber at different construction sites for one year before deciding to focus all my energy on hockey. If I hadn't discovered hockey, I'm pretty confident I'd be fixing pipes all over town right now.
All I dreamt about was playing for EHC Chur — that's all any of my friends wanted to do. My dad would take me to games and I'd love the singing and chanting. That's what makes you want to play.
The crowds were electric, similar to the NHL, but completely different at the same time. Flags and banners hung from poles and seats. Goals were an excuse to scream as loud as you could.
When I started playing at the junior level in Switzerland, the country is so small that we just drove to every game, played, and then drove back home. Even the pro teams would do that; they just had big buses that their equipment managers would drive.
My parents went with me to every game. They were never upset if I played poorly, which apparently isn't always the case in North America.
Hockey is an expensive sport to play anywhere, but since we imported all of our equipment in Switzerland, it was even pricier. Like I said, I loved to shoot, but every broken stick came with a death glare from my mom, and a $300 dollar replacement.
My parents cared most if I showed up on time and focused. Every Swiss person I know has that attitude. It's a forward-thinking country whose people are realistic and responsible – and that's reflected in the way we play hockey.
We play defense-first hockey. That doesn't mean we don't have fun, but like I said, we're realistic.
Look at some of the players we've produced at the NHL level: Roman Josi, Luca Sbisa and, of course, Mark Streit.
You'll notice that those names are all defensemen. As a goal-scoring forward, I never really considered the NHL an option; I didn't think I was good enough. My teammates always told me, "You're going to make it! You're going to be in the video game!" But I was realistic, remember.
It wasn't until the 2008 U-18 world championships in Russia that agents started approaching me. They told me I should consider playing junior hockey in Canada, and that I might have a chance of being selected in the NHL draft.
Let's just get to the Swiss league first and see what happens. That's what I kept telling myself.
The year after that tournament EHC Chur ran into financial problems and I moved to HC Davos. Davos gave me that first real taste of playoff hockey — that rush stepping on the ice in the playoffs is something you don't forget.
It made me want more.
After the season ended I went to the U.S., for the 2009 U-18 worlds. I had been overseas before, for a tournament in Lake Placid, and I remember teammates trying to explain the Miracle on Ice to me.
It's hard enough to believe the story of the 1980 U.S. Olympic hockey team when you speak the language, but even more confusing for someone whose worst class in school was English.
We played Canada that year in Fargo, N.D. — which was a bit of a culture shock — and they pulled us apart. I remember how fast they were — they had eyes in the back of their heads, I'm certain.
We lost and the score wasn't pretty.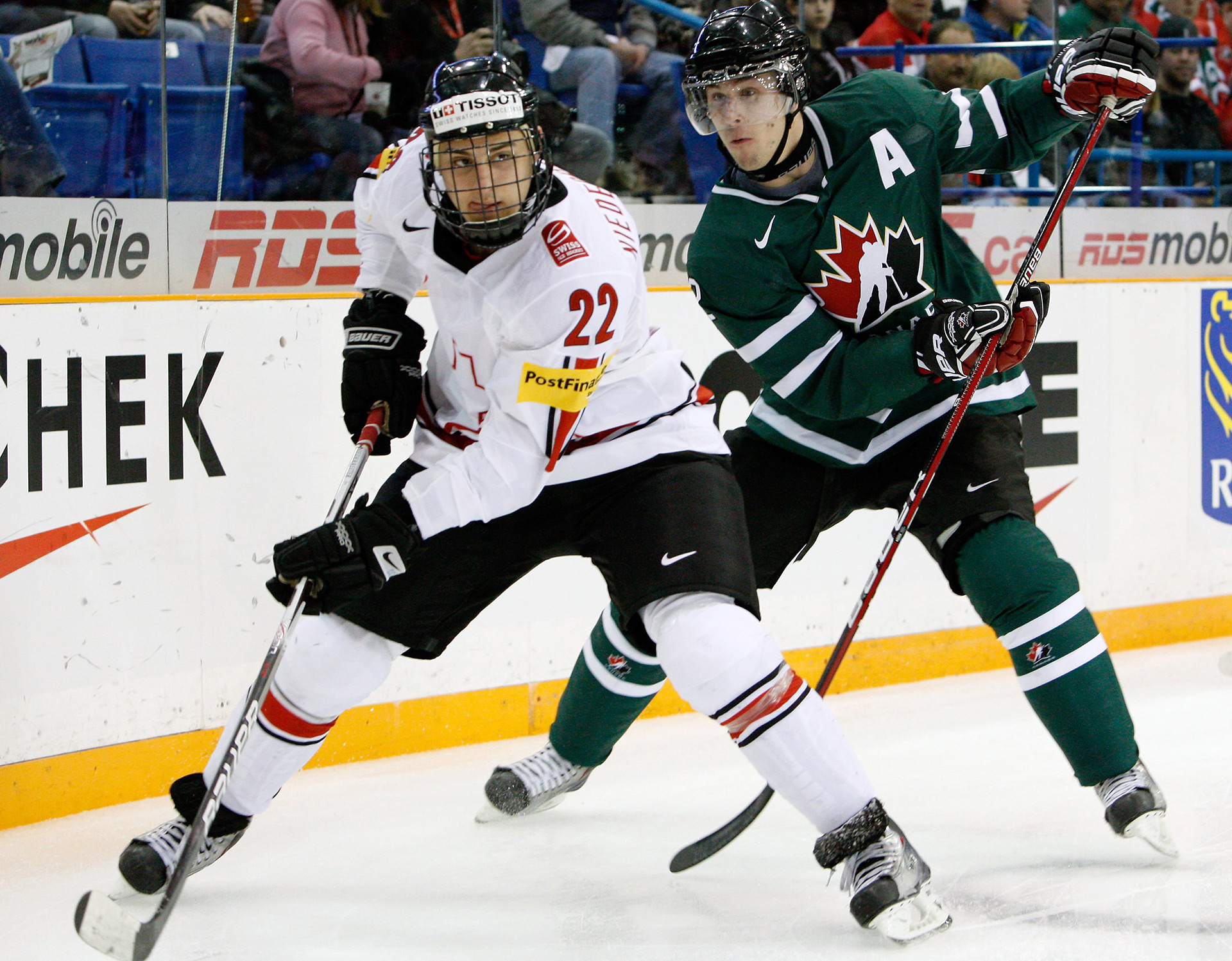 The Canadian coach at the time was Mike Johnston, the coach of the Portland Winterhawks of the WHL. We hit it off right away and he wanted to make sure that I would be in the upcoming import draft.
Less than a year later I was moving to a city I had just heard of, in a country I had been only twice.
My biggest concern was the language and culture. Portland was kind of like Zurich in a strange way, and it made things a bit easier. My billet roommate, Troy Rutkowski, helped me a lot, and I really wanted to improve my English right away.
Back home, our practices had emphasized the basics; solid skating, good positioning, strong shooting. In Portland, practices opened up a whole new world of hockey to me.
"Time for the tip drill!" coach would yell from the blue line.
"Tip drill?" I thought, "What the heck is a tip drill?"
I didn't even know about tipping the puck at the time. We had never practiced that in Switzerland.
The technical side of the game changed for me in America. Here the hockey is much more stop-and-start. In Europe, on the big ice, you always have to be moving and taking advantage of space.
In Europe we didn't focus as much on the physical side of the game, but it's a part of the way I play now. Being in front of the net, getting the "greasy" goals, I excelled at it. Adjusting to that element eased my transition into the WHL.
I had a strong season in Portland, but I remembered what my family always used to say:
"Never get too high, never get too low."
I knew there were still challenges ahead. My parents had worked hard to get me to this point. I owed it to them. I had a responsibility to them.
The night before the 2010 NHL draft, I stayed at Luca Sbisa's house in Anaheim. Luca plays for the Vancouver Canucks now, but was playing for the Ducks when I was drafted. On the way into the arena in Los Angeles, he introduced me to Scott Niedermayer, who I used to go coast-to-coast with in NHL 2003. We talked about a lot of things on the walk into the arena, but what stuck with me was his reminder to have fun along the way.
It might sound redundant or corny, but when you hear it from a legend like Niedermayer, it feels different.
"Have fun, don't take yourself too seriously, and enjoy every moment."
It was so … not Swiss.
When it comes to hockey (and everything, really), everyone in my country is very focused — it's almost a business-first attitude. Another word I keep using, but it's important, responsibility. We were responsible for our teammates and we played for one another, and not individual goals.
After getting drafted by the Islanders, I remember my first time in New York.
In Chur, the tallest building is just a handful of floors high. My neck hurt that day from looking up on every block in Manhattan. When I got traded to Minnesota, it was a little bit more like home.
Being away from my family isn't easy, but they stay involved. My dad used to get up in the middle of the night to watch my games during my first couple seasons. He and my mom watch all my games on weekends now.
I have two sisters who both follow along, but one of my sisters really, really loves hockey. She runs this fantasy hockey league with her friends and in the summer, when I'm back home, I'm the commissioner and I run the draft since I can't participate.
I warned them that if I didn't get picked in the first round, I would not help anymore. But, of course, I went in a reasonable spot in the draft. I think maybe the 15th round. There was no inflation of my value.
Because they're Swiss.
They're very practical people.
Connect with us:
Quick Note
Growing up in Canada I was a huge hockey fan, but it wasn't until the 1972 summit series and the 1976 Canada Cup that I became a big fan of international hockey. The best players in world all playing on a sheet of ice. over the years Ice Hockey as grown and is still growing all over the world. On this website you find Video Hi-lites of International Games, Ice hockey News, National Team Records, All Time Results, Scores, Schedule to upcoming games and all International Tournaments from around the world.
We want to thank some people who have contributed to our website over the years.