Other articles
Serena Williams vs
Serena Williams vs. Victoria Azarenka – Wimbledon semifinal preview
The first Wimbledon semifinal on Centre Court on Thursday will be between Agnieszka Radwanska and Angelique Kerber and you can read the preview of the match-up here. Now let's give the word to our guest poster Omair for his take on the semifinal between Serena Williams and Victoria Azarenka.
Serena Williams has set her sights on her seventh Wimbledon final as she takes on Victoria Azarenka, while Azarenka has her sights set on her first Wimbledon final and the No.1 ranking from which she was dethroned by Maria Sharapova after Roland Garros. Azarenka needs to reach the final to secure the return to the top spot or Agnieszka Radwanska to fall short of winning her first Grand Slam.
Let's have a look at the performance of Serena and Azarenka so far at Wimbledon 2012.
* I have used the average aces, double faults, winners and unforced errors hit by the player per match.
Serena has been serving efficiently as evident from her serving stats. The major difference will be the second serve. We all know that Serena has been serving her way out of trouble. Azarenka has won only 46% of points played on her second serve, while Serena has 63%, a huge difference of 17%.
However, Azarenka might love to try Serena's skills on the net by moving her around as she has won 9% more points than Serena on the net. Serena has been better than Azarenka in almost every department.
Serena is playing way cleaner matches than Azarenka. Serena's winner-unforced errors differential is +19, against +7 for Azarenka per match. Also, an interesting thing to note is that Azarenka is the only player left in the draw who has more double faults than aces, averaging five double faults per match against three aces per match.
Serena is 6-1 in Wimbledon semifinals and 7-1 against Azarenka in the pair's head-to-head meetings. Their most recent meeting came in the final of Madrid 2012 won by Serena in straight sets.
Azarenka is the only one of the four players left in the draw, who has yet to drop a set. Her semifinal opponent has dropped two sets so far, one to Zheng Jie in her third-round victory and the other to Yaroslava Shvedova in the fourth round.
If both are playing at their best, we will be in for a treat. No one has forgotten the second set played between the two in the third round of the US Open last year. If Azarenka is to have a chance, she will have to hold and serve and not to let go of any break point chance she might get, however, if she doesn't take her chances at break points she will be in trouble.
Venus Williams is the only player to have beaten Serena in the semifinals of Wimbledon. Will Azarenka become the second player?
Pick: Serena Williams in three sets.
7 thoughts on " Serena Williams vs. Victoria Azarenka – Wimbledon semifinal preview "
Omair, you use only statistics from Wimbledon. Then you mention a clay court match and matches played years ago which have nothing to do with what happens in 2012. Why not take into consideration what the players have done in 2012 except on clay. Azarenka has been the best, most consistent player this year. That consistency has held during Wimbledon – she has yet to lose a set. Serena on the otherhand has been anything but consistent. Serena has come very close to losing in her last 3 (not 2) three set matches including a 9-7 and a 7-5 final sets. If Zheng and Shevdova came that close to winning, Azarenka should have no problem moving on to an easy final with Radwanska.
Sorry, there were only 2 three set matches. Iwas wrong on the post above. Omair is correct – as always with his stats!!
JohnnyB- I use stats of Wimbledon since the tournament is going on and the players have played a solid 5 matches so far.
And I mentioned the clay court match just because it happened to be their last encounter, and though it was on clay, it was on blue clay, which was comparable to fast courts.
Marija – My bad, Serena has her eyes set on her 7th Wimbledon final. Can you please correct it?
Well get ready for the grunt-fest! Serena and Azarenka will be going at it. Check out the hilarious video on youtube. The women grunt but it's McEnroe that has the final say. http://www.youtube.com/watch?v=TX1vd6ROdOE
Omair, I've corrected it.
If Serena's serve remains on her side and she increases the break point conversion just a bit, which implies the slight increase in the receiving points won, she should win. Also Serena is much better in the department of winners-UE.
Love these stats from the WTA:
Williams is playing her 21st Grand Slam semifinal (17-3 in her first 20); she has been to more than three times as many Grand Slam semifinals as the other three semifinalists combined (Azarenka three, Radwanska one, Kerber two).
Williams has won her last seven matches against Top 2 players in straight sets.
Williams has an amazing 55 differential of aces to double faults throughout the tournament (61 aces, 6 double faults); the other three's differentials are -10 for Azarenka (13-23), 9 for Radwanska (11-2) and even for Kerber (13-13).
Every time the Williams sisters play doubles at Wimbledon, one of them wins the singles title!
Wimbledon 2015 Quarterfinal Results: Serena Williams Outduels Victoria Azarenka in Ridiculous Slugfest
Wimbledon 2015 Quarterfinal Results: Serena Williams Outduels Victoria Azarenka in Ridiculous Slugfest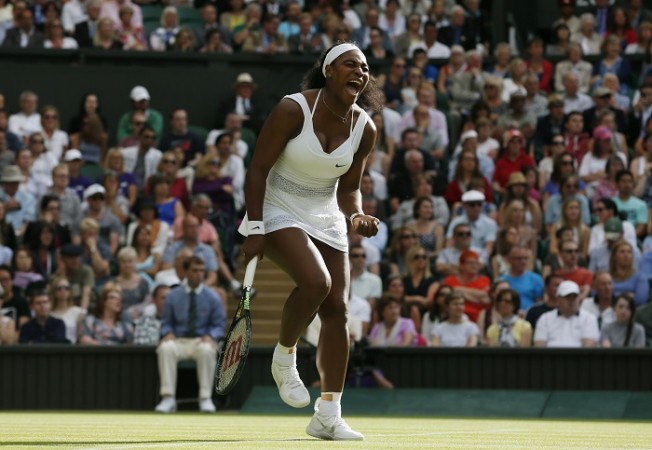 For nearly two hours, Serena Williams and Victoria Azarenka put on a slugfest of such proportions that even the likes of Andy Murray, Novak Djokovic and Rafael Nadal (no, no Roger Federer, because he doesn't do slugfests) would have found it difficult to match.
It was one of the best women's singles tennis matches you are likely to see this year, and easily the best of Wimbledon 2015, with Serena and Azarenka going back and forth, back and forth, hitting some ridiculous groundstrokes, and finding some insane angles to leave the crowd at Centre Court asking for more.
While the tennis was of the highest quality, the result was rather predictable in the end, as Serena, after going down a set to the pumped-up Azarenka, found her rhythm and brutal power in the next two to cling the match 3-6, 6-2, 6-3 in two hours and 3 minutes.
Azarenka, with Serena's long-time hitting partner Sascha Bajin egging her on, came in with a clear plan – pump those groundstrokes with plenty of venom from the off, keep it as deep as possible and put Serena under pressure.
It worked too in the first set, as Serena struggled to match Azarenka's power, with the duo putting on some rallies that made those jaws drop. The jaws rarely went back up, either, as the two players continued to show their baseline prowess in the second set, with one point in the third game particularly standing out.
The shots in that rally were stunning, the depth of the forehands and backhands as deep as it could possibly be, with Serena, eventually prevailing in that point and taking that game, before running away with the set.
Azarenka's serving prowess was on the wane now, with those first serves just not coming in as often as possible – the first serve percentage was over 70 in the first set, but it dropped to below 60 in the final two – and there was Serena, ready to pounce like a lioness on any second serve.
With Azarenka struggling to recapture her rhythm, Serena went in for the kill, breaking her opponent's serve in the second game of the deciding set, before ramping up that pressure with every service game that followed.
Azarenka did well to hold on and win three games in the set, but with Serena not looking like dropping her serve, all it took was for the American to serve out the match at 5-3, which she duly did, despite a few hiccups in that match-winning game.
This was one of those matches where you wish the women played five sets, because if they did, it would have turned into a classic that would have everyone talking about for years to come.
It was still good enough for that look of disbelief at what everyone had just witnessed due to the truly outstanding tennis – as good as any served up in this Championships so far – and the two things to take from this match are – Serena remains near unbeatable, and Azarenka is definitely back to her best.
Next up for Serena in the semifinals is Maria Sharapova, who battled past American Coco Vandeweghe in the earlier quarterfinal at Centre Court.
Serena Williams, Victoria Azarenka: Who Wants It More?
WebProNews
Share this Post
It's that time again, time for the U.S. Open women's final and Serena Williams and Victoria Azarenka are ready to go at it. Both women have proven themselves a worthy opponent for the other, but only one will win. It all comes down to who wants it more.
Azarenka recently showed just how tough and determined she can be during her match against Flavia Pennetta, but she only won by a hair. The match was by no means Azarenka's or Pennetta's best and either player could have easily won. It won't be so easy for Azarenka to secure a win against the experienced Williams and if she plans to do so, she better pull herself together and focus on her game.
Williams may make winning seem easy, but it's not due to a lack of hard work. She has already won four previous U.S. Open titles and clearly has her sights set on another. She also holds an impressive record against Azarenka. Williams also has a huge fan following that is rooting her on.
This doesn't mean Azarenka can't still have a win. Everyone loves the underdog and stranger things have happened. Azarenka is still an impressive player and has won two Australian Open titles herself. If she can maintain her focus on the game, she may be able to give Williams a run for her money.
As is the case with most sports, there is always drama involved behind the scenes. Both women will have to set aside their previous matches and concentrate on battling each other. Williams has been impressive all year and is considered by most to be the best women's tennis player of all times. A win over Williams could give Azarenka a real boost, but will Williams let that happen?
Serena Williams falls to Victoria Azarenka in Qatar Open final
Serena Williams falls to Victoria Azarenka in Qatar Open final
With her march back to the No. 1 ranking complete, Serena Williams promptly lost in the finals of the Qatar Open to the woman she will replace atop the world rankings.
It's odd how sports and rankings work that way.
Victoria Azarenka of Belarus successfully defender her Qatar Open title by defeating Williams, 7-6 (6), 2-6, 6-3, on Sunday in Doha. It was Azarenka's 14th consecutive victory this season, including her triumph in the Australian Open last month.
And, despite ending a 10-match losing streak to Williams, her American rival will somehow replace her atop the WTA rankings on Monday.
"I just wanted to fight and give it my best, give myself every opportunity I can," Azarenka said. "I started with love-30 [in the third set] and I was like, 'You have to keep it together. You have to do something.' Serena was on a roll . so I had to really step up my game. I'm really glad I could turn it around and stay tough."
Azarenka can reclaim the No. 1 ranking by reaching the final at Dubai next week. If Williams, who is also entered in the tournament, reaches the final, the winner of the championship match would claim the top ranking.
"I'm definitely not happy, but I'm No. 1," Williams said after the defeat. "It was such a long journey, and after winning Wimbledon and the U.S. Open and the [WTA] championships, I thought, I just don't think I can win anymore. I don't know what it takes to be No. 1. So it was awesome to come here and achieve that goal.
"This whole week, I just don't think I played my best tennis, and I was fighting every match," she said. "I can't play that quality game against a top player like Victoria. I have to be able to pick up my game, and I wasn't able to do that today. I stayed at a two out of a 10, and I can't play that low."