Other articles
Football Manager 2016: The best teenagers - Goalkeepers - Wet grass, white posts, bulging nets, and ignited passions
Wet grass, white posts, bulging nets, and ignited passions
Taking in the sights, sounds, and emotions of the Beautiful Game
Football Manager 2016: The best teenagers — Goalkeepers
I recently wrote a post about a few defensive midfielders I expected to stand out in Football Manager 2016 — you can check it out here; I've written about the attributes, preferred positions, and potential of Matias Kranevitter, Lucas Romero, Victor Wanyama, Sven Bender and more excellent ball-winners and deep-lying playmakers. The article quickly became by far the most popular one on my blog, and gave me the idea of writing more player profiles, since fellow FM-ers seem incredibly keen on using the existing FM community to assist their due diligence and scouting process.
I'm currently seven seasons into my primary save on FM16, and am in charge of Manchester United; During this time, I've come across some spectacular young talents who are guaranteed to achieved stardom in the game and in real life over the next decade. In this article, I'll briefly discuss over 40 of the best teenagers, categorized by playing position — I'll look at their attributes as of June 2022, when they've had a good few years to develop and reach their full potential, given they'll be between 24 and 27 years old. Looking at their careers in my save will hopefully give you a good idea of their expected career paths and how you can get the best out of them.
Given there are over 40 teenagers on this shortlist, I'll divide it into four — potentially even five — parts; in this first article, I'll deal with some of the most talented wonderkid goalkeepers in the game. I hope this helps you choose your man in between the sticks for the next decade!
I should mention here that the star ratings for potential are deceptively low; these keepers are being compared to David de Gea, in goal for my Manchester United side that has won six Premier League titles and four Capital One Cups in a row, reached three European Champions Cup finals in a row, winning two, and won two FA Cups. Some high standards, in short.
The goalkeepers covered in this post are: Predrag Rajkovic, Gianluigi Donnarumma, Bartlomiej Dragowski, Vanja Milinkovic Savic, Fabrizio Alastra, Simone Scuffet, and Anthony Maisonnial.
Club: Maccabi Tel Aviv | Nationality: Serbian | Position: GK | Age: 20
The 19-year-old Serbian just about sneaks onto this list given he's a teenager for just a few months of the 2015-16 season, and definitely deserves to be labelled one of the brightest prospects in the game. He has been tremendous on my save, average above 7.00 in EVERY season so far, no mean feat considering goalkeepers rarely get rated like the outfield players, and are also the most prone to making silly errors.
Rajkovic's is known for his superb communication and control of the penalty area; his biggest strengths are his Command of Area (17), Anticipation (18), Handling (16), and Reflexes (16), but he truly stands out for his One-on-Ones (18). Combined with his superb Mental attributes, especially Positioning (17), Decisions (15), and Concentration (16), this makes him a great Sweeper Keeper as well, for those who prefer that role. His Anticipation and One-on-Ones also enable the team to play with a higher defensive line, since he is comfortable with rushing out; indeed, he is aggressive in coming off his line. With some work on his Passing, he could develop into a truly stupendous keeper.
As I mentioned, he has been incredible in my save, conceding 255 goals in 310 appearances in all competitions at club level, with 62 caps for Serbia. His pass completion percentages are relatively poor, hovering in the 53-58% range. However, if I was looking to replace David de Gea in my Manchester United side, Rajkovic would probably be my first choice.
Check out some of Rajkovic's best saves here and here.
Club: AC Milan | Nationality: Italian | Position: GK | Age: 16
Possibly the most famous 16-year-old footballer in the world since Real Madrid's Norwegian starlet Martin Odegaard, big things are expected of Donnarumma; you would have to be living under a rather big rock to not have heard of FM-ers bidding tens of millions of pounds, and with good reason.
One look at Donnarumma's attributes in 2015 suggest a fantastic prospect; in 2022, aged 23, the standout attributes are Aerial Reach (20), Jumping Reach (19), and Strength (19), and it comes as no surprise that the 6'6″ Italian's greatest strength is dealing with crosses and high balls into the penalty area. Tactically, this seems to indicate the possibility of allowing your full-backs to push further up the pitch when your team is in possession, since crosses may not present a major goal-scoring threat. His mental attributes, most of which are either 13 or 14, leave a little room for improvement.
Unfortunately Donnarumma hasn't quite captured my imagination on my save; seven years on, he is still at AC Milan, and has made 66 senior appearances over six seasons, conceding 87 goals with a highest season average rating of 6.68, measly even by goalkeepers' usual standards. Even so, I imagine he would be a decent buy at £825,000 on a weekly wage of £42,500. You can expect him to mature even more, and perform much better in a human-controlled team, and I don't believe many FM-ers would be dissuaded from taking a punt on him.
Watch an excellent video of Donnarumma in action here.
Club: Jagiellonia Bialystok | Nationality: Polish | Position: GK | Age: 18
Blame it on Wojciech Szczesny, Artur Boruc and Lukasz Fabianski, but don't be fooled by the fact that Bartlomiej Dragowski has an unimpressive three senior Polish caps to his name at age 24; he's an excellent goalkeeper, has played for Barcelona, and for Benfica in the final of the European Champions Cup, and as the screenshot shows, is valued at between £36,000,000 and £50,000,000 thanks to a long-term contract at the Portuguese giants.
The Pole is a well-rounded keeper whose biggest strengths are his reliability and shot-stopping, with key attributes of Reflexes, Aerial Reach, and Positioning (all 17). He has had a travelled career in my save, having been picked up by Barcelona 'B' in 2016 following two appearances with Jagiellonia, indicating even the AI's believe in his long-term potential. He has played in the Premier League on loan at Derby County, making 25 league appearances as the Rams finished in 9th, their best Premier League finish since 1999.
The 2021-22 season was Dragowski's best, as he kept 19 shutouts in 34 appearances for Benfica, conceding 23. He was especially impressive in the European Champions Cup, holding 25 saves and parrying 15 in 11 appearances, 6 of which he ended with shutouts.
With adequate training in Passing and First Touch, he can be an assured keeper for a medium- to large-sized European club.
Check this video for highlights of Dragowski's career so far.
Club: Manchester United | Nationality: Serbian | Position: GK | Age: 18
While all of the other keepers on this shortlist are capable of playing at the very highest level, I have chosen to add Milinkovic Savic as he offers some variety to this list; an accomplished goalkeeper in his own right, he couldn't force his way past David de Gea in my United side, through no major fault of his own.
Milinkovic Savic has a decent range of 13-15 in most important attributes, but his 6'8″ frame and Aerial Reach of 17 catch the eye, and make him highly adept at dealing with crosses and high balls into the area. Like Donnarumma, this would potentially allow you to play with more attacking full-backs, given the presence of an assured collector of crosses.
A possible red flag in his profile would be his relatively high susceptibility to injuries; over seven seasons in the save, he has missed a total of almost eight months of football through injury, most of which have occurred in training.
Milinkovic Savic has been decent in my save, conceding 125 goals in 123 appearances for Manchester United (24 in 23), Huddersfield and Fulham (5 in 5).
A final note on the keeper: in real life, he has not received a British work permit, and has a contract with Polish club Lechia Gdansk beginning January 2016; future updates to FM16 may reflect this.
Club: Palermo | Nationality: Italian | Position: Goalkeeper | Age: 18
Alastra has possibly the most consistent set of core attributes of any player on this list, and the only real standouts are Reflexes (16) and Agility (16), making him an excellent shot-stopper. His Aerial Reach (15) and Jumping Reach (15) also enable him to claim crosses, and Alastra is an excellent commander of the box.
The Italian begins the game at 18, and has made 87 appearances for Palermo, conceding 111 goals and keeping 21 shutouts. In the 2021-22 Serie A campaign, he kept 11 shutouts in 38 appearances.
Club: Udinese | Nationality: Italian | Position: GK | Age: 19
Miles Jacobson, the long-time director of the Football Manager series and supervisor of every feature of the game, recently commented in an interview that this Italian goal-keeper is one of the first wonderkids he looks to sign on every FM16 save; the 19-year-old has also been considered one of the brightest young prospects in the position by a number of features and articles, including one by FIFA itself, making him a managerial must-have in the long-term.
Scuffet is the model of consistency, and has been a highly reliable presence in goal for Udinese and Fiorentina in my save. He is excellent across the board, and his strongest trait is his ability to be in the right place at the right time; his Anticipation (16), Concentration (18), and Positioning (17) in 2022 are superb, as expected. He has made 318 professional appearances, conceding 289, which is a decent record given Udinese finished as low as 7th and 8th while he was there, while Fiorentina finished 5th in his first season. He was undoubtedly the best keeper in the Serie A in the 2021-22 season, keeping 19 shutouts in 38 games.
One point to note about Scuffet is that he won't be available in the 2015-16 season, having been sent on loan to Como in Serie B. 2016 onwards, however, he should be a major priority for your side.
Watch this video to see 15 great saves by the future star.
Club: AS Saint-Etienne | Nationality: French | Position: GK | Age: 17
A very talented French goalkeeper who is guaranteed to make it big, Maisonnial develops into a well-rounded keeper with superb attributes.
Entering his second season of professional football in the French Ligue 1, Maisonnial has the potential to be an outstanding distributor of the ball, thanks to Kicking (17) and Throwing (17), and his Jumping Reach (18) and Strength (20) at age 25 mean he is comfortable collecting crosses; however, the strongest aspect of his game is undoubtedly his ability in One on One situations (18).
Maisonnial goes on to have quite the career in my save, turning out for Bayern Munich and Real Madrid and becoming the French No1; in the 120 club games he has played as of October 2023, he has conceded a whopping 150 goals, which can be explained by the fact that most of his career has been at Saint-Etienne and Stuttgart, neither of whom have done well. While his valuation may be a tad over the top, Maisonnial is still one of the best keepers in the game, and the fact that he begins the game at 17, and is continuing to develop at 25 means he could well be in goal for 20 years.
If you found this article useful, check back in a few days to read about some of the best teenage defenders, midfielders, wingers and strikers in the game!
7 must-use tips for Football Manager 2016, FourFourTwo
7 must-use tips for Football Manager 2016
We asked the talented Football Managers at www.FootballManagerStory.com for some advice on this year's game and this is what they told us.
Got the latest edition of Football Manager? Want some advice on how to reach the top that little bit quicker?
Read on as Darren from FootballManagerStory.com compiles some hints to help you make it big time, baby.
"Poor training can lead to injuries, fatigue, poor development and lack of tactical familiarity. I find training at high intensity on team cohesion and fitness prepares my team during pre-season. Then dropping off to medium intensity and balanced works well once the competitive season kicks off. You can push players in pre-season but may suffer injuries by demanding high intensity past that point.
"While scheduling, lean slightly more towards match training and allow your team rest after a match – recovery time is vital. Set all your players to train individually on the role/position you expect them to play. The more familiar they are in the position you deploy them in, the better they will perform.
"Load your tactics as early as possible in pre-season. The more fluid your side become in any given system, the more success they will enjoy on the pitch."
"Your Assistant Manager can make the difference so pick well. Look for good judging of player ability and player potential – this will increase the accuracy of your team reports and star ratings that help you judge role suitability in the tactics screen.
Your Assistant Manager can make the difference so pick well
"Great motivation is a must; this will lead to more effective team talks. Finally, tactical knowledge is very important. An AM with great tactical knowledge can be asked to assign opposition instructions pre-match. Get this right and you increase your chance of winning.
"Sign one coach for every training category and then one or two more to cover all categories. Asking coaches to specialise in one area will increase their star rating in that area. Below in section No.3 are the attributes you need in each category. The one or two extra coaches are to help reduce workload across the board."
3. Mental attributes
"All coaches need: determination, a good level of discipline and motivation
Specific coaching attributes needed:
"Get this right and your coaching screen should look like below."
"I find the 4-1-4-1 successful in the lower leagues; you can use very attacking roles without over-committing, thanks to the shape. You can download my tactics here.
"Keep your eyes open: watch the matches and the statistics. We recommend watching matches in 'comprehensive highlights' mode, as that will allow you to get a better idea of what your team does (or doesn't do) on the pitch and make tactical changes accordingly.
"You should also have a look at the post-match statistics and also at your players' statistic screens (can be found in 'reports'). For instance, you might notice that one of your midfielders is firing too many shots off target, so you might want to restrict his shooting from distance in your tactics.
"Playing in the top flight is all about creating movement. The opposition make fewer mistakes, therefore you need to drag players out of position and create gaps. We have just the tactic for that, based on the 4-4-2 with a twist: you can download it here."
"We can't all afford to buy Lionel Messi and Sergio Aguero, but how do you get the very best players cheap? Buy them young. Football Manager generates new players every year that are save-specific and imaginary.
"If you know when and where these players are generated you can sign them very, very cheaply. Follow the steps below to see all the new regens listed by month.
Finding quality players for the lower leagues is tough, so you'll enjoy this trick
Click the globe icon in the top-right corner
Select 'world' from the top options
Select 'transfers' in the 'general' list
Now click the 'all transfers' drop-down menu and select 'youth intake'
Use the filter to sifter out irrelevant countries and view all new regens by date generated
"Finding quality players for the lower leagues is tough, so you'll enjoy this trick. When starting a new save, load a custom database as 'large' with all Norway-based players showing. There are so many dirt-cheap players in Scandinavia. I found this particularly helpful in League Two with lots of free transfers and low-fee players good enough to rip League One apart but prepared to play a tier lower. You can download my shortlist here and load the correct database by following the instructions below."
"I could talk all day long about players, but let's start with the top 10 in terms of potential ability.
"Below are the top 15 bargains we've profiled on the Scouting Network. Well worth a look, they all have the potential to play at the highest level."
"Many readers ask what my favourite XI is. I prefer to look to the future, so let's see my most-bought wonderkids. I've won many championships and been crowned kings of Europe thanks to this lot. "
Best Football Manager 2017 Goalkeepers
Best Football Manager 2017 Goalkeepers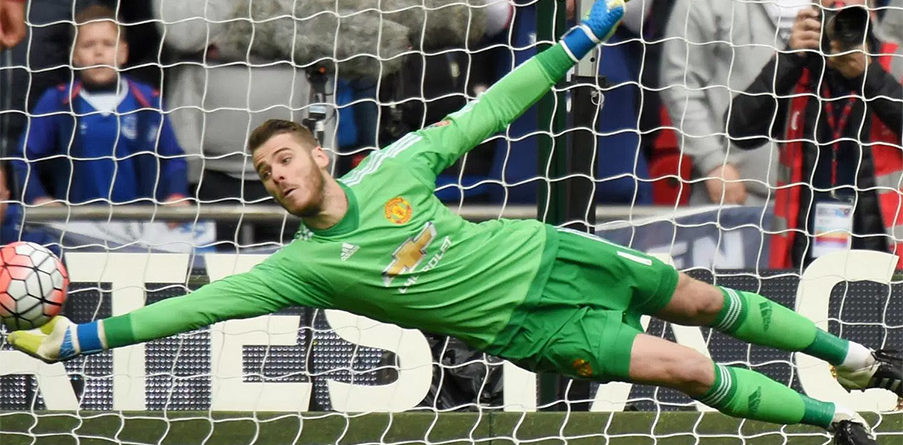 The below screenshots of the Best Football Manager 2017 Goalkeepers are taken with attribute masking switched off. Any discussion of hidden attributes such as 'consistency' and 'injury proneness' are verified by using third-party data editors/readers. Transfer costs are based on day 1 estimates of starting a new save in Football Manager 2017 (do note that this will vary as the game progresses). Do note that the list below does not contain any wonderkids, as that will be covered in a separate upcoming post.
Manuel Neuer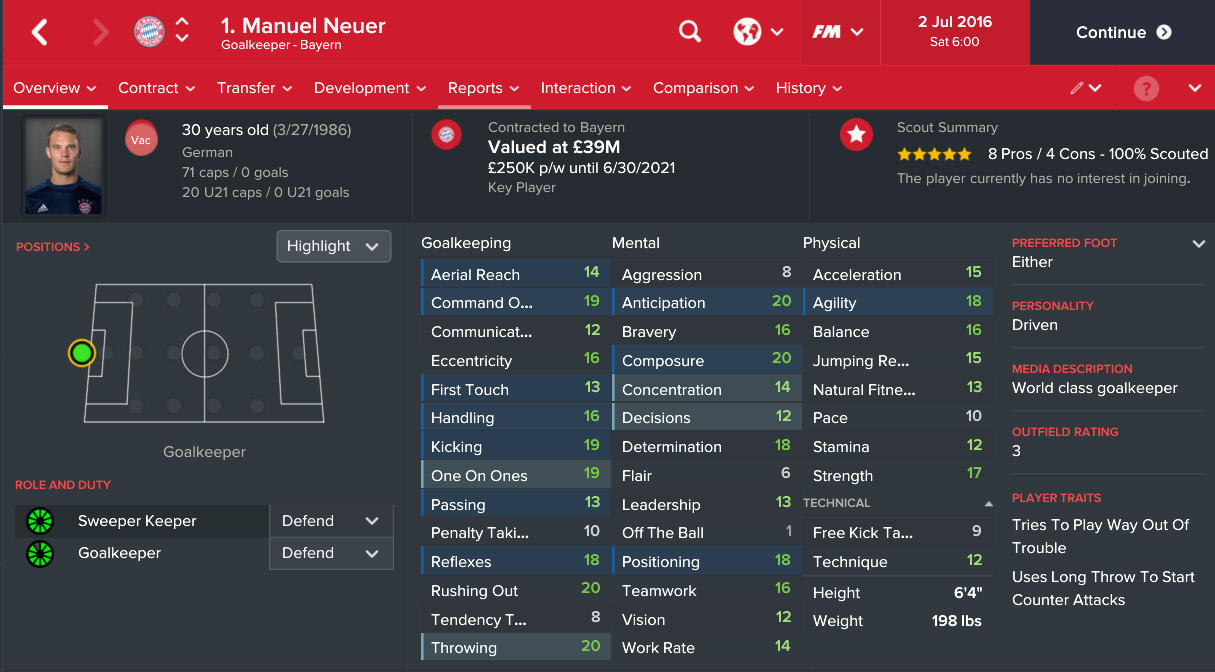 Estimated Transfer Cost: £130+ million
Probably the best goalkeeper at the start of the game (evident from the bank-breaking price tag). Multiple key traits are close to a perfect 20, combined with the fact that he has a 17 and 19 rating respectively for the hidden traits Consistency and Important Matches, will see him put in many Player of the Match performances over the course of a season. He is also naturally fit, with a rating of only 4 for Injury Proneness.
Aside from amazing shot stopping abilities, Neuer also has insane distribution stats – rated 19 and 20 respectively for Kicking and Throwing. He is more than capable of launching swift counter attacks via long throws or kicks upfield.
It is incredibly challenging to sign Neuer at the start of the game – you only stand a chance if you are able to fork out an astronomical sum for him. On top of that, he is pretty much happy at Bayern, it might take an amazing contract offer to tempt him away. That being said, do consider that he is already 30 years old, and is already at the prime of his professional career. It is unlikely you will be able to sell him for a profit somewhere down the road assuming you broke the bank to sign him.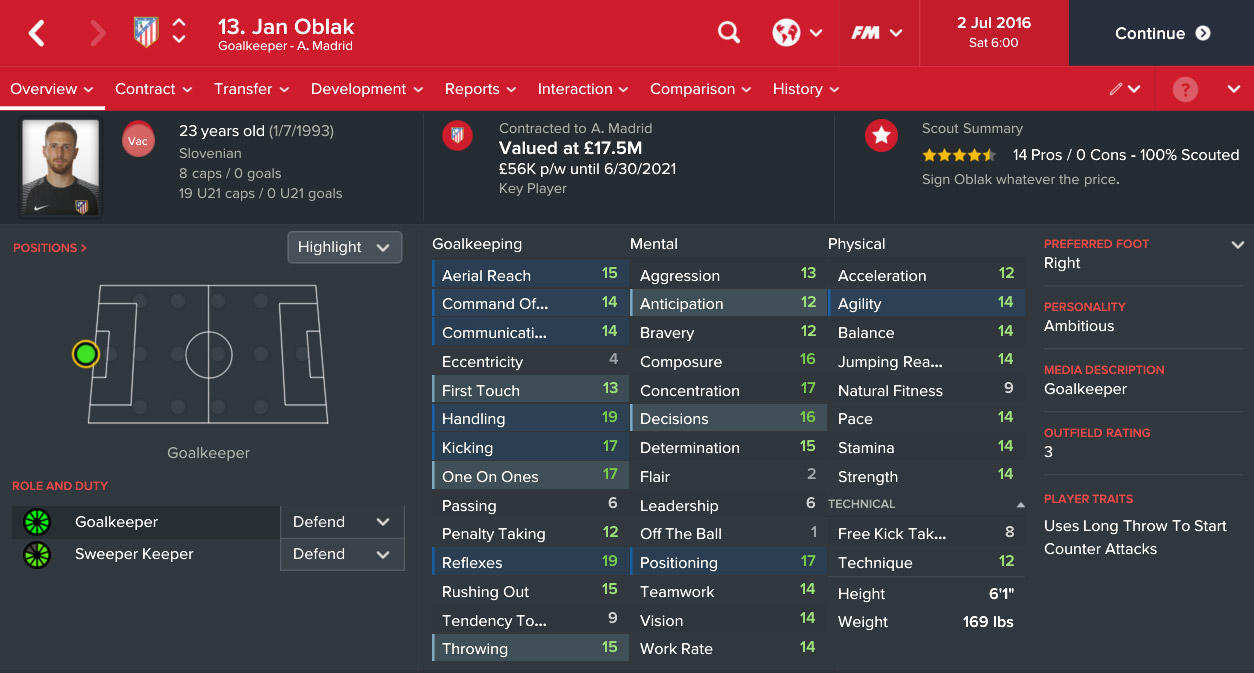 Estimated Transfer Cost: £49+ million
Jan Oblak is one of the most consistent goalkeeper in Football Manager 2017 (rated '15' and '15' respectively for 'Consistency' and 'Important Matches'. His close to perfect 'Reflexes', as well as 'Handling' is the underlying reason for consistent performandce overtime.
He has an individual trait that allows him to start counter attacks using long throws, making him the best keeper for teams that are looking to sit deep and strike swiftly on the counter. Aside from his ability to land long throws, he has a pretty decent 'Kicking' attribute at 17, another important criteria if you are looking to release the ball quickly for a swift counter.
Jan Obalk is merely 23 years old and his best years are still way ahead of him. He should prove to be a real consistent performer in the span of over 10 years or more, definitely a purchase for the long run – worth the hefty price tag he commands. He is also willing to move away from Atletico Madrid at the start of the game (assuming the club you manage is reputable of course).
If there is anything to nitpick on, it would be Jan Oblak's disapponting 'Natural Fitness' rating. Though he has a low hidden 'Injury Proneness' rating of a mere 5, his Natural Fitness of just 9 implies he might take a longer than expected time to return to full fitness after sustaining an injury. Make sure you have a decent backup keeper in your roster for those unfortunate spells with an injured Jan Oblak on the sidelines.
Thibaut Courtois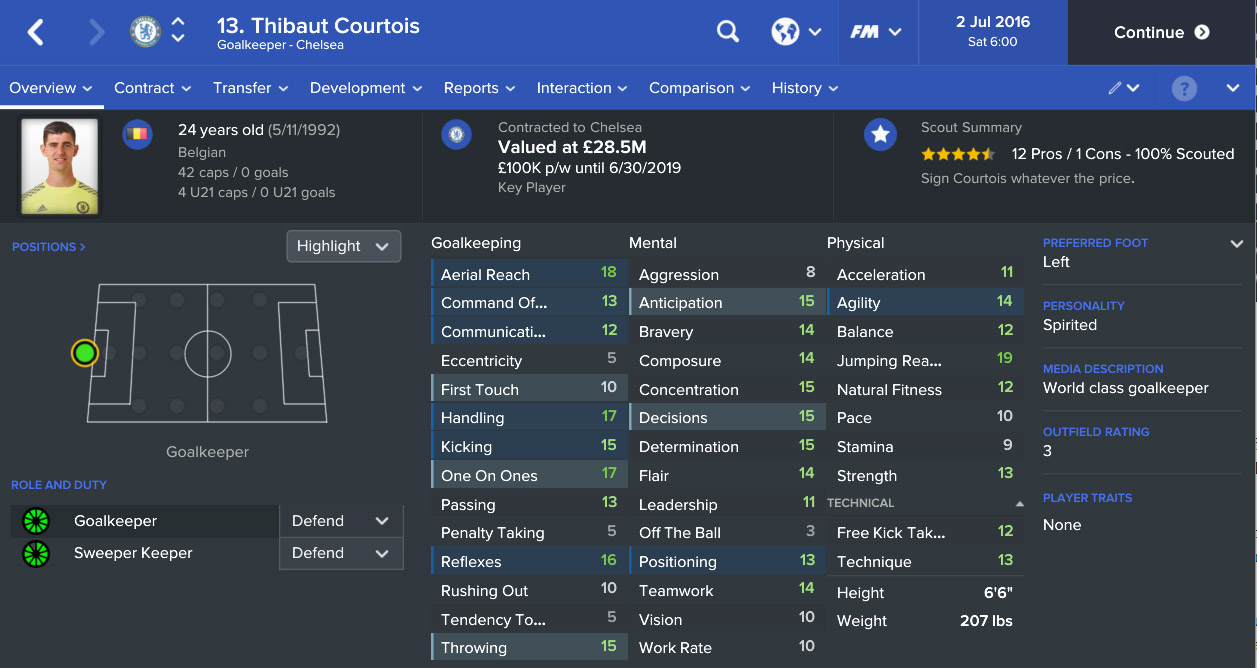 Best Football Manager 2017 Goalkeepers – Thibaut Courtois
Estimated Transfer Cost: £78+ million
Courtois starts of the game as the established #1 keeper at Chelsea, and rightfully so. His 6'6″ built, combined with his 19 Jumping Reach and 18 Aerial Reach makes him extremely reliable when it comes to dealing with aerial threats and headers.
Courtois comes with above average stats on almost all the key stats for a goalkeeper, and is rated 14 and 18 respectively for the hidden attributes "Consistency" and "Important Matches" – you can always rely on him to deliver when it comes to the big matches.
Chelsea is extremely unwilling to sell their number one man between the sticks though. It will take an astronomical figure for you to pry their prized possession away from Stamford Bridge – but at the tender age of only 24, he will be a worthwhile investment for the years to come.
David De Gea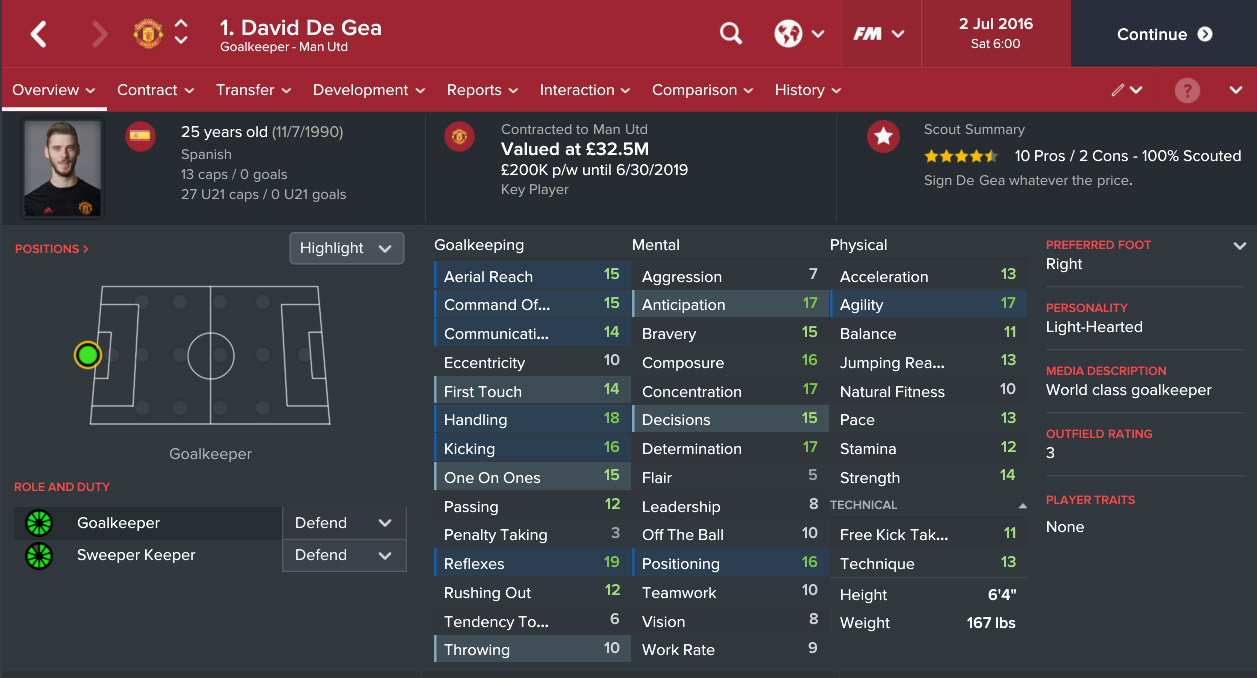 Estimated Transfer Cost: £100+ million
There really isn't any need for introductions here. David De Gea's stats and name speak for themselves, and he will most definitely go on to be branded as a 'Legendary goalkeeper" as the game progresses further. He is rated 18 and 15 respectively in terms of the hidden attributes Consistency and Important matches. Coupled with his amazing Reflexes, David De Gea is one of those keepers who are capable of pulling off highlight-reel worthy saves game after game.
David De Gea is also rated 5 for 'Injury Proneness' – on certain saves of mine, I have been able to play him for every single game without him succumbing to injuries.
It is almost impossible to pry David De Gea away from Manchester United (not surprising given the above). It takes a bid north of £100 million for Manchester United to even consider letting him go. He also has very demanding wage expectations (as he is on a £200k per week contract at Old Trafford), so make sure you have the finances needed to support a transfer like that.
Wojciech Szczesny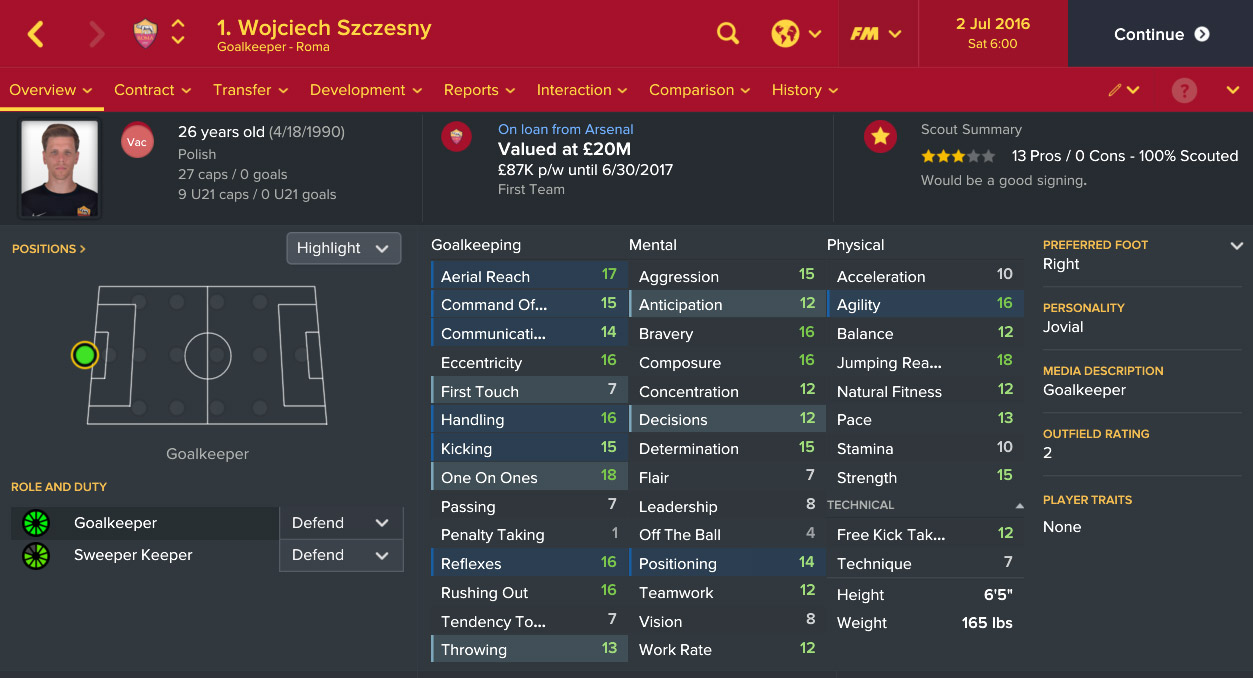 Estimated Transfer Cost: £29 million
Not the first name that comes to mind when one ask who are the best goalkeepers in Football Manager 2017, but we reckon Wojciech Szczesny is worth a mention when making such a list as he he represents 'value for money'. Roma is actually open to selling him at the start of the game for a bid of
£29 million and Szczesny has pretty reasonable wage demands as he is currently being paid £87k per week. He has above average goalkeeping stats where it matters and is fairly consistent between the sticks – rated 13 and 14 respectively for the hidden traits of Consistency and Important Matches.
Szczesny is rated 8 for Injury Proneness, which is a fair bit higher than most keepers on this list, so make sure you have a decent #2 that you call upon for when Szczesny is on the physio table. His biggest downfall is his rating of 16 for Eccentricity, so lapses in judgement and mistakes are something that you can expect every once in a while.
Rui Patrício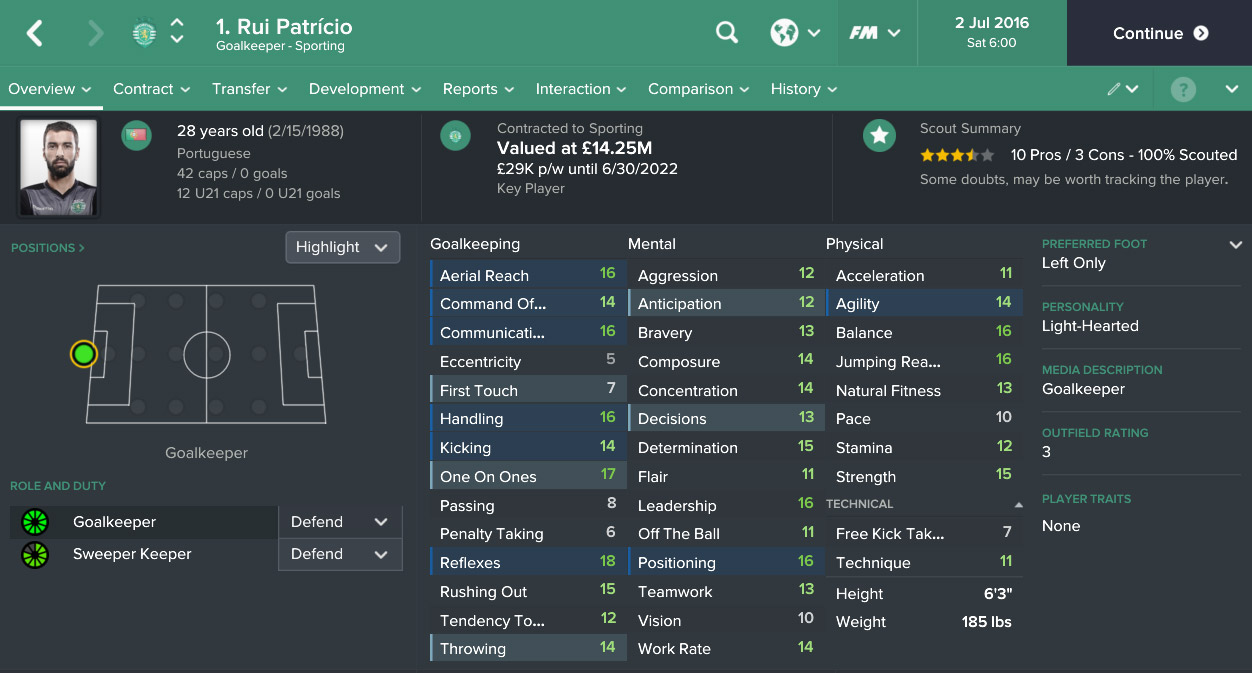 Estimated Transfer Cost: £25+ million
Rui Patrício is one of those goalkeepers who tends to fly under the radar. Unlike some of the other names on this list, he might not be as well-known, but similar to Wojciech Szczesny, he represents real value for money.
Sporting is willing to sell him at the start of the game for between £25 – 29 million. This coupled with his meagre wage demands (he is only paid £29k per week at the start of the game), makes it ideal for mid-level clubs on a tight budget who have the ambitions to challenge for European spots.
Reflexes of 18, coupled with his One on Ones rating of 18 allows you to get away with playing a high defensive line. Patrício is rated 14 and 15 respectively for Consistency and Important Matches.
Similar to Szczesny, Patrício is rated 8 for Injury Proneness, so ensure you have reliable #2 goalkeeper to call upon when needed. Do note that he does not speak English and is rated only 8 in terms of Ambition – integration into English-speaking ambitious squads might take a fair period of time.
Fraser Forster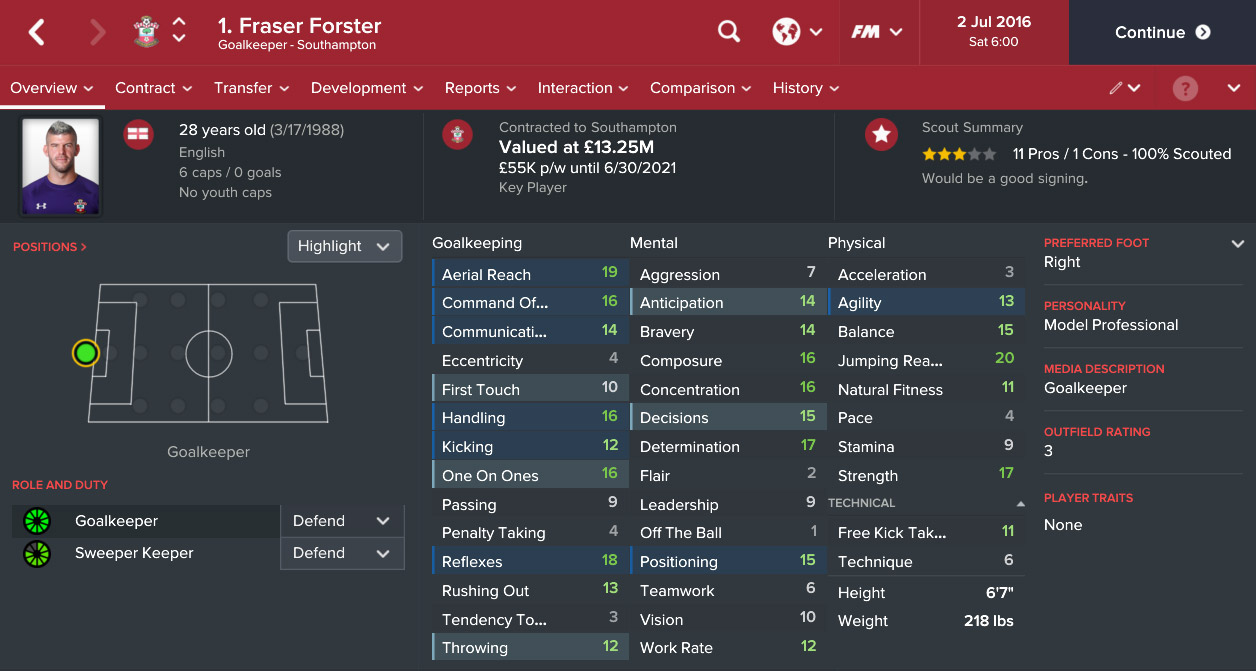 Estimated Transfer Cost: £35+ million
Your typical English Keeper with a 6'7″ frame. Strong in the air, Forster is rated 19 for Aerial Reach, 20 for his Jumping Reach, 17 for Strength and 16 for his Command of Area. Forster's Reflexes of 18 also allows him to pull of harder than average saves.
Southampton is open to selling Forster at the start of the game for a sum of
£35+ million. Though you could potentially get him for cheaper if you are able to unsettle him (especially if you are managing a more reputable club than Southampton who can offer Forster European football). Paid £55k per week, he screams value if you also consider that he is rated 15 and 16 respectively for Consistency and Important Matches.
In addition, Forster has a 'Model Professional' personality, which ensures he is that perfect tutor for that new Wonderkid goalkeeper that you are looking to nurture.
Fraser Forster does not have any obvious weaknesses, though one might argue he can never compete on the same level as Manuel Neuer or David De Gea for personal accolades. Overall, a solid option that does not require you to break the bank to sign.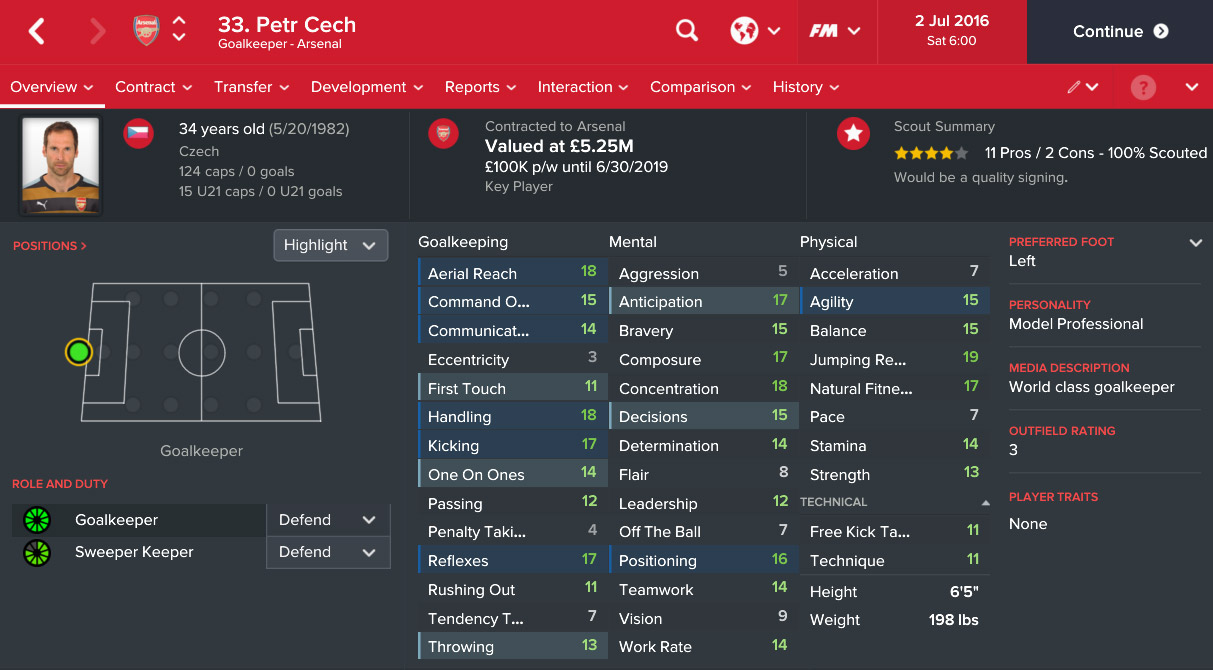 Best Football Manager 2017 Goalkeepers – Petr Cech
Estimated Transfer Cost: £38+ million
No best goalkeeper list will be complete without including Petr Cech, though some might argue his best days are over in real life. Cech has the right attributes to command his media description of a 'World Class Goalkeeper", but his real strength really lies in his consistency – he is rated 18 and 17 respectively for Consistency and Important Matches. His wealth of experience at the age and his 'Model Professional' personality allows him to be the ideal candidates to tutor young promising goalkeepers in your squad.
Arsenal is unwilling to sell Cech at the start of the game, unless you put in a good bid. However, note that Cech is 34 years old at the start of the game, and is unlikely to represent 'value for money' or a long term solution if you are looking for a goalkeeper that you can use for the long run.
Gianluigi Buffon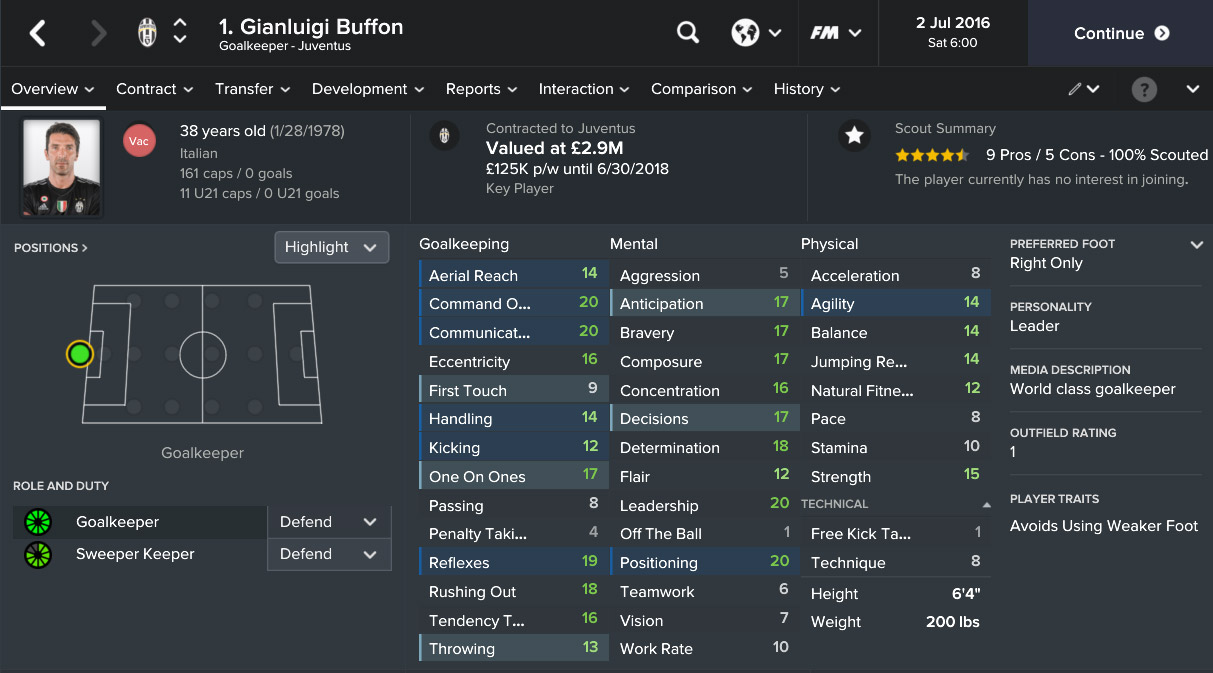 Best Football Manager 2017 Goalkeepers – Gianluigi Buffon
Estimated Transfer Cost: £35+ million
Buffon's name speaks for itself. A real leader for the Juventus squad at the start of the game, he has amazing attributes for a goalkeeper that is 38 years old. Buffon has 19 and 17 respectively for Consistency and Important Matches. Buffon is proably the best in the game when it comes to organizing the defence, given his perfect rating of Command of Area and Communication. Don't let his age full you, he is still very nimble, with 19 for Reflexes.
Whilst Buffon ranks as the top keepers at the start of the game, he is likely to decline over the medium term given his advanced age. On top of that, he is fairly susceptible to injuries at the age of 38 (with an Injury Proneness rating of 12, the highest amongst all the goalkeepers in this list). Taken these into consideration, you might want to think twice before breaking the bank to sign him from Juventus (which is unwilling to sell at the start of the game).
Preview: Vampyr, From the Developers Of 'Life is Strange'
Casual And Hardcore Players: A History Of Hatred
Sonya Brea
PlusMana was born out of a belief that by forgoing the speedy publication of factual news articles, we can offer a one-stop blog that offers thought provoking analytical publications to the community – in essence, a blog that truly champions the geek culture as gaming, esports and hardware take their place in mainstream culture. Read more about how we are uniquely positioned as a blog
The Misfocus in Open World gaming: Size and Collectables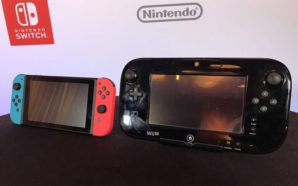 How Wii U's Weirdness Created a New Nintendo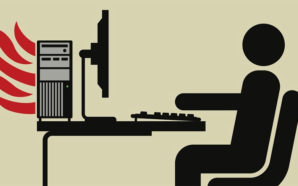 In Defence Of Dunkey's Criticism of Video Game Critics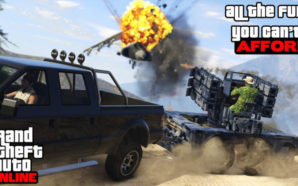 How Rockstar Turned GTA 5 into a Complete Abomination
RELATED BY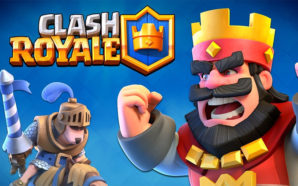 Best Clash Royale Deck: Fast Cycle and Control Hog Deck for Arena 6+
Top 5 Clash Royale Legendary Cards
Dota 2 MMR: Boosting Yourself Up The Ladder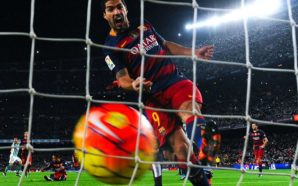 Best Football Manager 2017 Strikers
PlusMana creates no claim or credit for images featured on our site unless otherwise noted. All visual content is copyrighted to its respectful owners. If you own rights to any of the images, and do not wish them to appear here, please contact us and they will be removed immediately. All opinions expressed on the site are mere personal views of the respective authors and do not represent that of PlusMana. Please contact us if you have any concerns and they will be address promptly.