Other articles
Alabama Crimson Tide vs Texas A - M Aggies Free SEC Spread Prediction
Alabama vs. Texas A&M CFB Preview, Odds, and Free Prediction
Undefeated and top-ranked Alabama rolls through College Station, Texas this week to face off against Texas A&M. The Aggies, 2-0 in the SEC, will play host in this 7:15 EST matchup at Kyle Field, where the 12th Man will be rocking. The game can be seen on ESPN.
Alabama Crimson Tide vs. Texas A&M Aggies Preview and Vegas Odds
The Crimson Tide have kept the throttle down after a lackluster performance against Colorado State. Even when facing heavy underdogs Vanderbilt and Ole Miss, they showed incredible discipline through all four quarters.
They feature a plethora of talented pieces in their run game, all serving specific purposes within the offense. Jalen Hurts is one of the more talented quarterbacks Alabama has ever had, and his dual-threat capabilities bring a feature the Crimson Tide offense hadn't had before under Nick Saban.
The defense is as dangerous as always. It's virtually impossible to gain consistent yardage on the ground against them, and they have future NFL Pro Bowlers like Minkah Fitzpatrick to stifle the air attack.
Texas A&M may not have the quarterback in Kellen Mond to strike down the field with, but they do have a chance thanks to the talent of receiver Christian Kirk. But they'll mostly be relying on their offensive line to continue creating holes for Trayveon Williams and Keith Ford, two physical backs with plenty of field vision.
The Aggies remain huge home underdogs, with the spread currently set at 26 ½ points.
Free CFB Spread Prediction: Alabama -26.5
Alabama is on a mission. A lot of teams might waver from it over time, but if there's one team that will stay focused on dominating teams, it's Nick Saban's team.
Texas A&M may be 4-1, but the talent gap between these two schools is wide. Alabama has no problem going into this environment either. The last time they played at the raucous Kyle Field, they won by 18. And Bama only looks more dominant now.
They have a four-headed monster in the run game, counting Hurts. The Aggies are ranked 15th against the run, but these were similar stats Vanderbilt brought in before they surrendered nearly 500 rush yards to Bama. A&M also hasn't faced a program better than 39th in rushing, and played UCLA (107th-ranked) and South Carolina (122nd).
The Crimson Tide are 4th in the category, with Damien Harris serving as a runner who can hit the hole with explosiveness and accelerate well through the second level. Bo Scarbrough provides physicality and Jalen Hurts adds deceptiveness. It's something only a few teams can contain, and the Aggies aren't yet one of them.
Texas A&M has also relied too much on their own runners this season, and passing on Alabama with a bevy of playmakers at wide receiver is the only way to get near them on the scoreboard. Look at the only teams to beat them the last few years. They all had valuable pieces on the perimeter and a gifted passer to get them the ball. A&M only has Kirk with elite talent, and a decent-at-best SEC QB trying to deliver him the ball.
Alabama gives up 73 yards (only Michigan has a lower number) rushing a game, and haven't been dominated in this facet since they played Ezekiel Elliott in the 2014 season.
The Tide have covered their last five road games. Don't expect anything to change this weekend against a team they've beaten by an average of 32 points the last three seasons.
Saban: Alabama looked - pretty ordinary - in Texas A - M win
Saban: Alabama looked 'pretty ordinary' in Texas A&M win
TUSCALOOSA, Ala. - Alabama finally looked mortal with what coach Nick Saban deemed ''a pretty ordinary game for us.''
The top-ranked Crimson Tide seemed less inclined to celebrate Saturday night's 27-19 victory over Texas A&M than to dwell on what went wrong - and, of course, how to fix it. The Aggies came much of the way back from a three-touchdown deficit and afterward Saban contended the "rat poison" of media hype was partly to blame for the performance.
Two days later, he and the Tide were looking at it as a learning experience. Winning the first two Southeastern Conference games by a combined score of 125-3 didn't provide all that much in the way of teaching opportunities for a coach who's always looking for ways to get his team's attention.
The Aggies supplied just that. And the coach pounced on it with the suggestion his team bought into the national praise.
''I think games like that are more important to our team in terms of our future than the big blowout wins because you're playing in a hostile environment against a great SEC team,'' Alabama tailback Damein Harris said Monday. ''Things don't always go your way and you're faced with a lot of adversity so I think that (presents) lessons to us as to how we fight through that adversity in upcoming weeks.
''We know we have a lot of football to play and something that Coach Saban always says is lasts week's success doesn't determine this week's. That's where we're going with it.''
Next up is Arkansas, which will be another heavy underdog when it visits Bryant-Denny Stadium Saturday night.
Perhaps the game was a wakeup call if indeed the Tide actually needed one. Alabama followed a similarly close game and poor finish against Mississippi last season with a series of more comfortable wins. Ditto for a loss to the Rebels two years ago.
If Saban's scowl and fiery message don't bring his players back to earth, a less than stellar performance can do the trick.
Guard Ross Pierschbacher said Saban's message after the game was basically ''are you going to listen to me or the media?''
''We'll probably hear it again today, too,'' Pierschbacher said before Monday's practice.
Alabama lost its first turnover of the season and allowed 300-plus yards for only the second time. Defensive back Minkah Fitzpatrick made a goal line interception in the fourth quarter to help preserve a safer margin, though the Aggies managed to block a punt for a safety and score a late touchdown.
Texas A&M set up a third quarter TD with a fumble recovery.
''I think we got punched in the nose a little bit, especially when we fumbled the ball and they scored a touchdown and the crowd got into the game and they got the momentum of the game,'' Saban said. ''I think it's important that your team learns to respond to that.
''I guess we can debate whether we responded very well to that or not. In my opinion. not as well as we need to. So there's definitely an opportunity to learn something from that experience, and that's what we'll try to take from this.''
Alabama Crimson Tide at Texas A - M Aggies Expert Picks and Betting Predictions
Alabama Crimson Tide at Texas A&M Aggies Expert Picks and Betting Predictions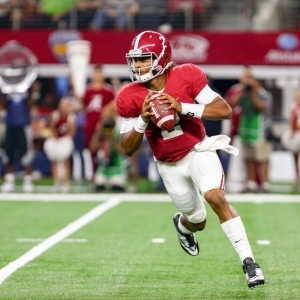 Alabama Crimson Tide at Texas A&M Aggies, Saturday Oct. 7, 7:15 p.m. ET
I chose this game for a few reasons this week from among all I could have written about. For one thing, the slate of games this weekend isn't hugely compelling, so this likely lopsided affair was no less compelling than a lot of games played by major contenders. Second, there are a few reasonably interesting storylines here as we will see in the next section. And, most significantly, I chose it because this should be a great matchup. It won't be because one team is great and one team is struggling, but there is no reason that this shouldn't be a tight, tense showdown. That it isn't is entirely the fault of the Aggies, who have no excuse for being as generally underwhelming as they have been for the last few years.
Free $60 in Member College Football Picks No Obligation Click Here
Alabama at Texas A&M Betting Storylines
I have come to the realization that I don't really think of coaches as real people. If I did then I wouldn't take such pleasure when they were fired or when they are in real danger of getting canned. The 4-1 start by the Aggies has helped Kevin Sumlin's case a little, but the vultures are still circling. He was 11-2 in his first season, finishing ranked fifth in the nation. And he hasn't taken a step forward in the four years since. He was 9-4 in year two and then 8-5 in the next three years. For some programs 8-5 would be solid and acceptable. For Oregon State or Rutgers it would be a miracle. But for a school with the resources that the Aggies have - selling 100,000 tickets a game provides a few bucks to spend - there is no excuse for the mediocrity. And a guy who a couple of years ago was rumored to be capable of getting any NFL head coaching job he wanted looks less inspired and less competent with each passing season. Just a few years after winning a Heisman, he can't keep a blue chip quarterback in town and can't keep any QB that stays around healthy. By year five Sumlin should be able to give Alabama at least a decent challenge. Being nearly four touchdown underdogs at home does not qualify as providing a decent challenge. Losing this game by itself won't be fatal for Sumlin, but getting embarrassed sure wouldn't help his case.
Alabama has not played a tough schedule so far - especially given how far Florida State has fallen since that opening loss to the Tide. What the defense has been able to do, though, is impressive - even given the standard we hold this team to after years of excellence. In their last two weeks they have beaten Vanderbilt 59-0 and Ole Miss 66-3. Those aren't good SEC programs right now, but they are still SEC programs, and no team should win conference games like this. Vanderbilt managed just 78 total yards and three first downs. Texas A&M has only been okay on offense - and a pathetic 95th in passing yards. And they have not played an elite defense so far - or particularly close. Freshman Kellen Mond has been pressed into action before he was ready, and the team has had to simplify things as a result. Simple is not a way that is going to score points in bulk against Alabama. Not that we needed a lot, but the defense for the Tide is a solid reason to feel optimistic about their chances here.
Alabama at Texas A&M Odds and Betting Trends
The game opened with Alabama favored by 25.5 points, and that wasn't enough for bettors as it has since climbed to 26.5 in most spots . Alabama is still receiving about 70 percent of all bets, so we could easily see the line climb to or through the key number of 28. The total opened at 57 and has since fallen to 54, with a further fall possible.
Alabama is 8-1 ATS in their last nine conference games, 12-2 ATS in their last 14 road games, and 16-7 ATS in their last 23 against teams with winning records. But they are just 2-5 ATS in their last seven played on grass. Texas A&M s a dismal 16-34-1 ATS in their last 51 against teams with winning records and 3-10-1 ATS in their last 14 overall. Despite playing at home on grass they are also lousy on the surface - 9-23-1 ATS in their last 33.
Alabama at Texas A&M Predictions and Picks
Normally I wouldn't bet a line like this. What's the point? But there is a play here. Texas A&M's record is inflated by their lack of opposition. They don't have a QB we can trust, their offense is far from sophisticated, and defensively they let UCLA and Arkansas score pretty much at will, so they are certainly vulnerable. Alabama hasn't been particularly tested yet, but their defense is outstanding, their offense is more than solid, and they are playing angry. They will be focused, and they are playing like they have something to prove after falling short last year. They aren't going to let the Aggies trip them up, and I have no faith that Sumlin and company can do anything about that. Alabama is the play - the public is right on this one.
Doc's Sports is offering a great deal for new clients - you can get $60 worth of free college football picks with no obligation. No credit card is needed, and you will never have to deal with a salesman. See what all the hype is about with $60 worth of free college football picks by clicking here . Also, get three handicappers for the price of one when you sign up for a full-season football package! Click Here for details . Get free weekly free college football picks at Doc's Sports free football picks page .
Most Recent College Football Handicapping Articles
One E-mail A Week Is All You Need!
Our weekly newsletter is loaded with exclusive free picks,insight and advice from our expert handicappers
Alabama vs
texas a&m and alabama betting line
Live
Shows

The Rally
Inside the League
Campus Insiders
The Seth Davis Show
Back

Networks

ACC Digital Network
Big 12 Digital Network
Conference USA Network
Mountain West Network
Patriot League Network
TheW.tv
Back

Sports

NFL
MLB
NBA
College Football
College Basketball
Back

Live Events
Where to Watch
Alabama vs. Texas A&M Prediction, Game Preview
Alabama vs. Texas A&M prediction and game preview. Projecting who wins the SEC West showdown between the Crimson Tide and Aggies.
Alabama vs. Texas A&M Game Preview
When: Saturday, October 22 – 3:30 p.m. ET
Where: Bryant-Denny Stadium, Tuscaloosa, AL
A matchup between arguably the two best teams in the SEC will take place in Tuscaloosa as both Alabama and Texas A&M enter undefeated with a spot in the College Football Playoff on their minds.
For Alabama, the faces are new but the results are the same, as they went into Knoxville and dominated Tennessee in a 49-10 win that was never in doubt. The Aggies enjoyed an off week after defeating that same Volunteers team in overtime the previous Saturday.
What To Know About Alabama
Quarterback Jalen Hurts is a bad man, especially when running the ball, and he showed why against Tennessee, rushing for 132 yards on just 12 rushes and three touchdowns. The offensive line for Alabama is once again a strength, as the Tide combined for 438 rushing yards in the rout. Look for the Tide to try and impose their will on the Aggies' defensive front and get both Hurts and running back Damien Harris going.
The amount of talent on the Alabama defense is insane, but the secondary will have its hands full with the deep group of wide receivers Texas A&M employs. If star pass rushers Tim Williams and Jonathan Allen can't get to Trevor Knight, cornerback Minkah Fitzpatrick and safety Eddie Jackson will need to have an excellent game.
What to Know About Texas A&M
This is quarterback Trevor Knight's team now, and he will have to have a performance for the ages to give the Aggies a shot in this one. Luckily, he has the weapons of Christian Kirk and Josh Reynolds to throw to at the receiver position. Knight can beat you with his feet, too, and the combination of Trayveon Williams and Keith Ford at running back gives the Aggies some balance on offense.
The defense centers around defensive end Myles Garrett, who can disrupt an offense all by himself. The Tide are excellent in the trenches and will do all they can to double team Garrett, so others on the front line such as Daeshon Hall must step up. Slowing the Alabama run game and making Hurts win the game simply by throwing will be a goal for A&M.
Advantages
Offense: Tie. These two teams are so explosive with the ball, and extremely balanced.
Defense: Alabama. The Crimson Tide have scored 11 non-offensive touchdowns this season, many coming from the defense.
Special Teams: Alabama. See the stat above. Eddie Jackson is a threat to return any punt for a touchdown – just ask Tennessee.
Coaching: Alabama. Offensive coordinator Lane Kiffin has turned the Tide offense into a machine.
Intangibles: Alabama. They don't just want to win, they want to humiliate you.
Matchup To Watch
Tim Williams/Jonathan Allen vs. Texas A&M offensive line
If these two guys can provide pressure (and don't forget about standout linebacker Reuben Foster), the Aggies offense will have a hard time finding anything yardage and point wise.
Alabama vs. Texas A&M Betting Odds
Alabama vs. Texas A&M Prediction
Texas A&M has exceeded expectations this season with the 6-0 start and a defense that has vastly improved in John Chavis' second season in College Station. Knight is just the right quarterback needed for Kevin Sumlin's system and, with the bye week, the Aggies will be well-rested. None of that will matter. This could be Alabama's best team since Saban arrived in Tuscaloosa, and that is saying a lot. The Tide are firing on all sides of the ball and can beat you in any way possible. Alabama wins in a blowout.
Alabama vs. Texas A&M Score Prediction: Alabama 45, Texas A&M 24
Justin Timberlake Could Make His Super Bowl Return
Justin Timberlake could be this year's halftime entertainment at the Super Bowl. Singer-songwriter, actor and Jimmy Fallon's best friend Justin Timberlake is reportedly finalizing a deal to perform during halftime of Super Bowl LII. The 36-year-old superstar last performed at halftime of the NFL's biggest game in 2004, when he exposed Janet Jackson's breast during […]
College Football
September 29th, 2017
Can Georgia Stay Perfect Against Tennessee?
#7 Georgia gears up for a Week 5 showdown with rival Tennessee at Neyland Stadium in Knoxville. A year after losing to the Vols on a heart-breaking Hail Mary, #7 Georgia looks to stay perfect on the road against 3-1 Tennessee. Even though the Bulldogs have looked impressive through the first quarter of the season, […]
College Football
October 1st, 2017
Troy Stuns LSU in Baton Rouge
Troy snapped LSU's 49-game home non-conference win streak with a 24-21 win. The start of Ed Orgeron's first full season as LSU head coach continued to go in the wrong direction after the Tigers were shocked by Troy 24-21 on Saturday. #Troy has beaten #LSU 24-21 snapping the Tigers' 49-game win streak to non-conference teams […]
Stay up to date with the latest news
About Brian Stultz
SEC columnist and contributing editor. My SEC Vibes column appears every Thursday and it'll make your life better. Would give a nonessential organ to play a round of golf with Fred Couples. No longer suffering Cubs fan. Soccer nut. Bamberg, Germany is my special place. Consumer of beer. Auburn grad.