Other articles
Serena Williams continues to reign atop WTA rankings
Serena Williams continues to reign atop WTA rankings
Check-out the complete list of women´s singles rankings as on July 21, 2014.
(Previous Rank, Current Rank, Player, Country, Date of Birth, Points, Tournaments)
[1] 1 WILLIAMS, SERENA UNITED STATES 26 SEP 1981 9231 16
[2] 2 LI, NA CHINA 26 FEB 1982 6960 14
[3] 3 HALEP, SIMONA ROMANIA 27 SEP 1991 6785 21
[4] 4 KVITOVA, PETRA CZECH REPUBLIC 08 MAR 1990 6070 20
[5] 5 RADWANSKA, AGNIESZKA POLAND 06 MAR 1989 5330 22
[6] 6 SHARAPOVA, MARIA RUSSIA 19 APR 1987 4881 16
[7] 7 BOUCHARD, EUGENIE CANADA 25 FEB 1994 4460 24
[8] 8 KERBER, ANGELIQUE GERMANY 18 JAN 1988 4365 24
[9] 9 JANKOVIC, JELENA SERBIA 28 FEB 1985 3900 22
[10] 10 AZARENKA, VICTORIA BELARUS 31 JUL 1989 3812 15
[11] 11 IVANOVIC, ANA SERBIA 06 NOV 1987 3660 22
[12] 12 CIBULKOVA, DOMINIKA SLOVAKIA 06 MAY 1989 3636 23
[15] 13 WOZNIACKI, CAROLINE DENMARK 11 JUL 1990 3050 19
[13] 14 PENNETTA, FLAVIA ITALY 25 FEB 1982 3039 20
[14] 15 ERRANI, SARA ITALY 29 APR 1987 3035 23
[16] 16 SUAREZ NAVARRO, CARLA SPAIN 03 SEP 1988 2695 26
[17] 17 SAFAROVA, LUCIE CZECH REPUBLIC 04 FEB 1987 2675 23
[18] 18 PETKOVIC, ANDREA GERMANY 09 SEP 1987 2460 24
[19] 19 STOSUR, SAMANTHA AUSTRALIA 30 MAR 1984 2415 24
[20] 20 MAKAROVA, EKATERINA RUSSIA 07 JUN 1988 2380 18
[21] 21 CORNET, ALIZE FRANCE 22 JAN 1990 2075 24
[22] 22 STEPHENS, SLOANE UNITED STATES 20 MAR 1993 2050 23
[24] 23 VINCI, ROBERTA ITALY 18 FEB 1983 1930 26
[23] 24 PAVLYUCHENKOVA, ANASTASIA RUSSIA 03 JUL 1991 1890 23
[25] 25 WILLIAMS, VENUS UNITED STATES 17 JUN 1980 1726 16
[26] 26 KUZNETSOVA, SVETLANA RUSSIA 27 JUN 1985 1646 18
[27] 27 KEYS, MADISON UNITED STATES 17 FEB 1995 1575 21
[28] 28 MUGURUZA, GARBINE SPAIN 08 OCT 1993 1535 15
[29] 29 CIRSTEA, SORANA ROMANIA 07 APR 1990 1521 23
[31] 30 LISICKI, SABINE GERMANY 22 SEP 1989 1427 18
[32] 31 HANTUCHOVA, DANIELA SLOVAKIA 23 APR 1983 1420 24
[34] 32 ZHANG, SHUAI CHINA 21 JAN 1989 1396 29
[36] 33 DELLACQUA, CASEY AUSTRALIA 11 FEB 1985 1380 14
[30] 34 ZAHLAVOVA STRYCOVA, BARBORA CZECH REPUBLIC 28 MAR 1986 1371 21
[33] 35 KOUKALOVA, KLARA CZECH REPUBLIC 24 FEB 1982 1355 29
[37] 36 RYBARIKOVA, MAGDALENA SLOVAKIA 04 OCT 1988 1345 27
[35] 37 SVITOLINA, ELINA UKRAINE 12 SEP 1994 1325 27
[39] 38 GIORGI, CAMILA ITALY 31 DEC 1991 1282 19
[38] 39 NARA, KURUMI JAPAN 30 DEC 1991 1274 25
[40] 40 JOVANOVSKI, BOJANA SERBIA 31 DEC 1991 1200 25
[41] 41 VANDEWEGHE, COCO UNITED STATES 06 DEC 1991 1164 22
[61] 42 BARTHEL, MONA GERMANY 11 JUL 1990 1158 28
[44] 43 DAVIS, LAUREN UNITED STATES 09 OCT 1993 1140 22
[45] 44 GARCIA, CAROLINE FRANCE 16 OCT 1993 1139 26
[47] 45 PLISKOVA, KAROLINA CZECH REPUBLIC 21 MAR 1992 1130 30
[43] 46 RISKE, ALISON UNITED STATES 03 JUL 1990 1121 24
[46] 47 FLIPKENS, KIRSTEN BELGIUM 10 JAN 1986 1110 24
[48] 48 VESNINA, ELENA RUSSIA 01 AUG 1986 1075 22
[49] 49 LEPCHENKO, VARVARA UNITED STATES 21 MAY 1986 1051 24
[50] 50 PENG, SHUAI CHINA 08 JAN 1986 1045 23
[51] 51 MCHALE, CHRISTINA UNITED STATES 11 MAY 1992 1045 23
[54] 52 KANEPI, KAIA ESTONIA 10 JUN 1985 1030 21
[52] 53 SHVEDOVA, YAROSLAVA KAZAKHSTAN 12 SEP 1987 1017 24
[53] 54 DIYAS, ZARINA KAZAKHSTAN 18 OCT 1993 1007 26
[55] 55 PIRONKOVA, TSVETANA BULGARIA 13 SEP 1987 996 22
[56] 56 TOMLJANOVIC, AJLA CROATIA 07 MAY 1993 985 27
[57] 57 WATSON, HEATHER UNITED KINGDOM 19 MAY 1992 980 25
[59] 58 NICULESCU, MONICA ROMANIA 25 SEP 1987 935 26
[60] 59 ZHENG, JIE CHINA 05 JUL 1983 933 19
[42] 60 MEUSBURGER, YVONNE AUSTRIA 03 OCT 1983 905 25
[62] 61 BENCIC, BELINDA SWITZERLAND 10 MAR 1997 903 18
[71] 62 CEPELOVA, JANA SLOVAKIA 29 MAY 1993 894 24
[65] 63 TORRO-FLOR, MARIA-TERESA SPAIN 02 MAY 1992 889 23
[63] 64 BEGU, IRINA-CAMELIA ROMANIA 26 AUG 1990 888 27
[66] 65 WICKMAYER, YANINA BELGIUM 20 OCT 1989 884 25
[70] 66 CETKOVSKA, PETRA CZECH REPUBLIC 08 FEB 1985 874 22
[64] 67 BECK, ANNIKA GERMANY 16 FEB 1994 856 29
[68] 68 SCHMIEDLOVA, ANNA SLOVAKIA 13 SEP 1994 844 25
[69] 69 PUIG, MONICA PUERTO RICO 27 SEP 1993 817 22
[58] 70 HERCOG, POLONA SLOVENIA 20 JAN 1991 806 20
[91] 71 SCHEEPERS, CHANELLE SOUTH AFRICA 13 MAR 1984 795 25
[72] 72 VOEGELE, STEFANIE SWITZERLAND 10 MAR 1990 790 28
[84] 73 SOLER-ESPINOSA, SILVIA SPAIN 19 NOV 1987 780 27
[67] 74 KNAPP, KARIN ITALY 28 JUN 1987 775 24
[75] 75 SCHIAVONE, FRANCESCA ITALY 23 JUN 1980 770 28
[74] 76 VEKIC, DONNA CROATIA 28 JUN 1996 755 20
[76] 77 KING, VANIA UNITED STATES 03 FEB 1989 740 22
[79] 78 BERTENS, KIKI NETHERLANDS 10 DEC 1991 736 18
[73] 79 BACSINSZKY, TIMEA SWITZERLAND 08 JUN 1989 703 16
[85] 80 DOI, MISAKI JAPAN 29 APR 1991 695 28
[102] 81 MLADENOVIC, KRISTINA FRANCE 14 MAY 1993 693 29
[81] 82 ERAKOVIC, MARINA NEW ZEALAND 06 MAR 1988 689 25
[77] 83 MAYR-ACHLEITNER, PATRICIA AUSTRIA 08 NOV 1986 689 28
[82] 84 KLEYBANOVA, ALISA RUSSIA 15 JUL 1989 688 16
[83] 85 FICHMAN, SHARON CANADA 03 DEC 1990 687 22
[80] 86 VAN UYTVANCK, ALISON BELGIUM 26 MAR 1994 676 26
[86] 87 DATE-KRUMM, KIMIKO JAPAN 28 SEP 1970 666 22
[87] 88 ORMAECHEA, PAULA ARGENTINA 28 SEP 1992 663 26
[89] 89 KONTA, JOHANNA UNITED KINGDOM 17 MAY 1991 657 25
[97] 90 PEER, SHAHAR ISRAEL 01 MAY 1987 654 23
[90] 91 DUVAL, VICTORIA UNITED STATES 30 NOV 1995 650 20
[94] 92 GOERGES, JULIA GERMANY 02 NOV 1988 650 26
[92] 93 KIRILENKO, MARIA RUSSIA 25 JAN 1987 644 16
[93] 94 PLISKOVA, KRISTYNA CZECH REPUBLIC 21 MAR 1992 644 28
[95] 95 PARMENTIER, PAULINE FRANCE 31 JAN 1986 637 26
[99] 96 DULGHERU, ALEXANDRA ROMANIA 30 MAY 1989 637 24
[88] 97 PEREIRA, TELIANA BRAZIL 20 JUL 1988 635 29
[96] 98 SMITKOVA, TEREZA CZECH REPUBLIC 10 OCT 1994 629 24
[108] 99 ARRUABARRENA, LARA SPAIN 20 MAR 1992 625 25
[98] 100 BABOS, TIMEA HUNGARY 10 MAY 1993 620 25
Tennis World USA featuring tennis news, stats, rankings, player and tournament information, video highlights
Tennis World USA is published by Coppini Trading (pty) Ltd - 85 Jonkershoek Road - 7600 Stellenbosch - South Africa
Serena Williams – The World - s Best
serena williams current ranking


Serena Williams – The World's Best
By Hiland Doolittle, February 6th, 2009
" class="pin-it-button" count-layout="horizontal">Pin It
Serena Williams – Still the best
Serena's ranking is a lot like her game. She puts it out there and challenges the world to take it away. As she proved in the 2009 Australian Open, she is the force to beat in Women's Tennis.
Serena started slowly in the Australian heat and was fortunate to turn back a trio of hard hitting Russian challengers en route to a stunningly convincing 6-0, 6-3 final match victory over third seeded Dinara Safina. The impressive march to the championship was filled with adversity including a near upset by eight seeded Svetiana Kuznetsova in the quarter-finals and a tight semi-final match against fourth seeded Elena Dementieva.
The 2009 Australian Open had remarkable similarities to Serena's overall career. Originally overshadowed by her older sister, Venus, Serena has always been able to rise to the occasion and claim her rightful spot.
As the Melbourne tournament unfolded, Serena got better and better with each round. By the time she reached the finals, there was no turning her aside. Her powerful serve and ground strokes seemed to wear down the opposition.
Serena Williams Profile
Serena has captured four Australian Opens. After her win over Safina, Williams rejoiced in her typically straight-forward manner proclaiming, "I always believe I'm the best, whether I'm number one or whether I'm a hundred. Just having that extra bonus is pretty cool."
As long as Serena is on the tour, players like Safina, Kusnetsova and Dementieva will be under pressure to elevate their play to remain competitive.
Serena Williams after Winning Australian Open 2009 Title
Coupled with her 2008 U.S. Open Championship, Serena has now won consecutive Grand Slams for the first time since 2003. Serena did not perform up to her usual standards at the French Open in Paris in 2008, the site of the year's next Grand Slam. Uncharacteristically she bowed out in the third round. The younger Williams has set her sights significantly higher this year.
If Serena wins on the slower French clay courts, move over tennis world. Fans could well expect to see a Grand Slam sweep in 2009. As unpredictable as Women's Tennis can be, it is certain that Serena Williams will show up, will post her lofty credentials and challenge the field to overcome her. As everyone at Melbourne learned, that is no easy task.
External Links
Similar Posts
40 Comments »
hello,I live in Ivory cost, I speak french, I don't speak well english. but for Serena, I'm ready for my English Improvement. I like his way of playing tennis and that is best.Serena, I wish you much success. Your admirer of Africa Côte d'Ivoire.
I think there is something about Serena Williams that has something to do with my background. I can bet my last coin, nature is playing a game with us here. I have a very strong feeling she is my sister! However, she is my best tennis player in the world. I cry anytime she loses!
That girl butt is simply perfect. I am not gay but I just considered switching!
I loved the way Serena displayed her "Titles" on her
T-Shirt after winning Wimbledon. She is definitely a force to be reckoned with.
I love serena well on stage but my problem is her nudity is my case.
serena is my dream woman but were can i see her this woman i love ,she make me prawd each time she plays.for me she is the best woman………..etc.am from nigeria
you good player of the world and mindblowing playing in you are so humble and good muscle and sex bomb
I simply love Serena! Hot, talented, smart… yummy
serena, you are my dream lady in life, my major problem is how to get you on phone, you have all the qualities as a woman. please serena, I will be the most happiest man on earth if you can give me a call,
my number is 5511-86403726 my home base is brasil and Im from eastern nigeria, I have a present for you,I love you baby and also expecting to hear from you,
kisses and goodbye.
You are smart and cool. How can i be friend of the family.
Hi sarena i m lucky i support u one day i will see u i like usa true me my dream plz serena
i'm proud of you keep winning grand slams, your godly fan
Girl I am in love with your beautiful body. I just had to let you know.Yes I would get Married to you in a heart Beat.(smile)
I DO NOT LIKE TO SEE HER PLAY AGAINST HER SISTER. THIS WOWAN IS WONDERFUL. HER BUILT IS THE BEST IN THE WORLD. I WISH I CAN SEE HER PHYSICALLY. MAY I KNOW IF SHE HAS HER ROOT FROM NIIGERIA PLS.
girl this is for your nude picture in the ESPNmagazine cover page, u look gorgeous u should be glad for having such a beautiful body.
BABY UR GREAT I LOVE U
Face it people, She looks like a man.
Serena, you are the sexiest woman alive.
This is Santos. Please remember this name! Nest time…
i think that serena is the BEST tennis player in the world TODAY so this year i think serena will have a senrena slam that when she win all of the grand slams and she will be #1 for the year of 2010 good luck serena
hey serena is a nice girl but i think its time she gets a child or two cause she loves children.
Hi serena you are the series woman
¡I love you Serena!
I live in Uganda but when serena is playing, I feel as if am in the pitch with her.
She is a very good lady. I like all her games. I support her 100% I reqest if she can come and pay us a visit in Uganda and probably play with us, we shall be so much grate full.
2 words, absolutely stunning & fit, ladies, don't hate, congratulate! a couple more Slams under your belt serena, you are the best female to eva play da game.
you are a great lady,energetic,sexylookin,ambitious….you are too much. i love you
i love you baby.may GOd be with you.
i love this woman,i wanted to be like her but i think its too late for me to start playing tenis i miss it. we were of the same size ,same hight ,same figure
i wish i can give you my daughter so you can train her,she is goin gto make 4 i love you serena,your so good your my dream player
my dream is to meet serena. damm yu a gorgeous serena . im rootin for you in the austrailian finals …love yu…..
the dream of life come to the people that apprieate good ..may it please your majesty if i have your contact. stone
the change is good thing to come to ones life..serena this is the time for the change in youtr life ,give me that the opportunity to bring THE CHANGE STONE
MOST BEAUTIFUL WOMAN IN THE WORLD FIT SEXY BEAUTIFUL WHAT MORE DO YOU WANT YOU'VE GOT IT ALL LUV YOU
Hi, serena "saru" if i got you in my life, it is great success in both our life, how meance you & me staying very faaaar,, but my heart is staying very close to you,what ever you are the greatest baby in the world,
i dont know what to tell….because Serena is my dream woman,when can i see her face to face.. i really love her deeply in to my heart…if she lose her mach i lost my cotrol all the day…i,m a ghanain..but base in libya..my name is yusuf. mysty
Serena,I think you need to know that Black Americans are behine you,where ever you go, we love you stay strong,cause we got you
hey lo. serena,i luv every thing about you. pls pay us visit here in Niger delta nigeria.thanks
SERENA WILLY,HOW EMINENT YOU ARE BUT GENTLE,I LIKE YOUR STYLE.I'M ALSO AN ATHLET LIKE YOU.I PLAY B BALL.KEEP IT UP.
She is the best
what else can i ask in a woman? Serena you got it all. U r my fatasy!! love ya!!
what else can i ask in a woman? Serena you got it all. U r my fatasy! u r sweet withat bikini! wanna swim u on beach.
Serena Williams leads WTA rankings
Serena Williams leads WTA rankings
Serena Williams leads WTA rankings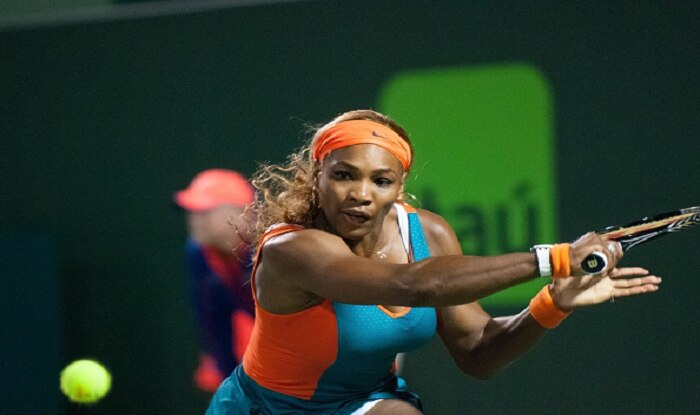 Madrid, Feb 27: American tennis player Serena Williams led the Women's Tennis Association (WTA) world rankings on Monday.
German Angelique Kerber came second with 7405 points, followed by Czech Karolina Pliskova with 5640.
The current WTA rankings and points scored are as follows:
1. Serena Williams (US) 7780 points
2. Angelique Kerber (Germany) 7405
3. Karolina Pliskova (Czech) 5640
4. Simona Halep (Romania) 5172
5. Dominika Cibulkova (Slovakia) 5075
6. Agnieszka Radwanska (Poland) 4670
7. Garbiñe Muguruza (Spain) 4585
8. Svetlana Kuznetsova (Russia) 3915
9. Madison Keys (US) 3897
10. Elina Svitolina (Ukraine) 3890.
Published Date: February 27, 2017 6:05 PM IST
Copyright © 2017. India WebPortal Private Limited. All Rights Reserve
Serena Williams Sitting Pretty Atop the Women - s Tennis Power Rankings, Bleacher Report
Serena Williams Sitting Pretty Atop the Women's Tennis Power Rankings
Serena Williams reigns once again as we launch the season's inaugural Women's Tennis Power Rankings.
With the first major completed, the 2010 season is officially underway.
1. Serena Williams (Last Power Ranking: 2; Current WTA Ranking: 1)
Last four tournaments: Australian Open [Winner], Sydney [Finalist], Doha [Winner], Beijing [R16].
Power Ranking Points: 832
Williams came into the Australian Open as the No. 1 seed, holding the WTA No. 1 ranking as she did at the conclusion of 2009. She left Melbourne with another Grand Slam victory—her 12th singles crown.
This has given her a stranglehold on the top spot. It is hard to imagine anyone wresting it away from her any time soon.
After winning the season-ending 2009 WTA Tournament in Doha, the American advanced to the finals of the tournament in Sydney in 2010. There Williams lost to Russian Elena Dementieva, 6-3, 6-2, suffering from an apparent left knee injury.
Williams was severely wrapped through all rounds of the Australian Open but managed to hold on and win against Henin in a three-set final. Williams has withdrawn from playing in Dubai this week along with No. 2-ranked Safina.
Time will tell if the younger Williams sister will retain her No. 1 ranking or be vulnerable to attack from the resurgent Belgian contingent.
2. Elena Dementieva (Last Power Ranking: 1; Current WTA Ranking: 7)
Last four tournaments: Open GDF Suez [Winner], Australian Open [R 64], Sydney [Winner], Doha [RR 2-1].
Power Ranking Points: 620
Dementieva had the worst luck possible at the Australian Open to be seeded in the third quarter along with Clijsters, Henin, and the Russian Kuznetsova. She met and was defeated by Henin in the second round.
Many argue that Henin should have been seeded, but, of course, that is not how the WTA and the Australian Open proceed. There are definite rules in place. Dementieva was playing well enough to have progressed quite far into the tournament. Her bad luck was to meet Henin early on.
On her way to the finals in Sydney, Dementieva defeated No. 2 seed Safina, No. 6 seed Victoria Azarenka, and the top-seeded Williams to collect her first tour championship of the season. Her second championship came on Sunday as she defeated Lucie Safarova, 6-7, 6-1, 6-4, to win the Open GDF Suez in France. Dementieva shows no sign of relenting or caving in to the pressure.
3. Justine Henin (Last Power Ranking: NR; Current WTA Ranking: NR)
Last four* tournaments: Brisbane [Finalist], Australian Open [Finalist]. (*Only two events played since return in 2010).
Power Ranking Points: 500
Like her fellow countrywoman Clijsters, Henin's return to professional tennis had an immediate impact. She made it to the finals of both tournaments she entered and pushed a tested opponent in the finals in both instances.
She lost to Clijsters in the final at Brisbane, pushing the 2009 US Open winner to three sets. At the Australian Open, she faced Williams and lost to her in three competitive sets.
Keeping her promise to play aggressively, Henin forced the issue in both matches, let down only by her serve and by her lack of match play practice. Be prepared to see Henin bring her game into focus on the European clay courts.
4. Vera Zvonareva (Last Power Ranking: NR; Current WTA Ranking: 14)
Last four tournaments: Pattaya Open [Winner], Sydney [R32], Australian Open [R16], Doha [R1].
Power Ranking Points: 378
Vera Zvonareva won her second consecutive title at the Pattaya Open in Thailand this past week. It marks her 10th WTA title overall. Starting 2010 again injured and having to retire during the Sydney tournament, Zvonareva regained her strength and healed well enough to take the Open title in Thailand.
The Russian no longer finds herself in the WTA top 10. Having fought injuries during most of 2009, Zvonareva will definitely have to battle hard to find her way back to the top. Staying injury-free will remain one of her biggest challenges.
This week she is the No. 12 seed at the Barclays Dubai Tennis Championships. With Williams and Safina both absent from the tournament because of injuries, it is a good time for someone else to climb in the rankings. Winning in Dubai would be a great victory for Zvonareva.
5. Na Li (Last Power Ranking: NR; Current WTA Ranking: 10)
Last four tournaments: Australian Open [Semifinalist], Sydney [R 16], Auckland [R 32], Beijing [R 16].
Power Ranking Points: 320
The Chinese ladies made quite an impact at the Australian Open, with both Na Li and Jie Zheng advancing to the semifinals of the tournament. Their success speaks volumes in terms of the advancement of the Chinese ladies into the upper echelons of the sport.
Li's success advanced her the WTA's No. 10 spot, making her the first Chinese woman to make it into the top 10.
Seeded No. 8 in Dubai in Caroline Wozniacki's quarter of the draw, Li has another great opportunity to climb even higher. With her athleticism, speed, and defining deep and quick groundstrokes, Li is an aggressive, offensive-minded baseline player. She is not afraid to take the offensive when it is offered to her. This could very well be Li's year.
6. Jie Zheng (Last Power Ranking: NR; Current WTA Ranking: 20)
Last four tournaments: Australian Open [Semifinalist], Hobart [Quarterfinalist], Beijing [R64], Tokyo [R 32].
Power Ranking Points: 317
Like her countrywoman Li, Zheng made it to the semifinals of the Australian Open, where she lost to eventual runner-up Henin. It marked the first time in the history of the game that two Chinese women made it into the final four of a Grand Slam tournament. The points earned propelled Zheng back into the top 20.
Zheng will be playing in the tournament in Dubai this week, looking for an opportunity to advance her ranking even further and strengthen her game. She is proficient at doubles and feels comfortable at the net.
Not as powerful or as tall as Li, Zheng relies on consistency and counter-punching to outlast her opponents. Such tactics will only take the Chinese woman so far in her quest to rise into the top 10. She has her work cut out for her if she expects to equal Li in that respect.
7. Flavia Pennetta (Last Power Ranking: NR: Current WTA Ranking: 11)
Last four tournaments: Open GDF Suez [Semifinalist], Australian Open [R 64], Sydney [Quarterfinalist], Auckland [Finalist].
Power Ranking Points: 291
Pennetta is the first Italian woman to be ranked in the WTA top 10. This happened in August of 2009. Pennetta is not only a good singles player—she also is ranked World No. 21 in doubles. This says much for her aggressive serve-and-volley style of play. She is ferocious at the net and can often dictate play with her offense.
Like most players on tour, Pennetta, who has played professionally for 10 years, battles injury. Her foot speed and her defensive prowess can only keep her equal in matches. It is her ability to turn defense into offense and end points quickly that allows her to win against the best in the world. She is playing up to her capacity to start 2010 as she reaches No. 7 in our Power Rankings.
8. Shahar Peer (Last Power Ranking: 4: Current WTA Ranking: 22)
Last four tournaments: Open GDF Suez [Quarterfinalist], Australian Open [R 32], Hobart [Finalist], Auckland [Semifinalist].
Power Ranking Points: 235
This is Peer's first time in the official Power Rankings, although the Israeli was previously included in the top five of our preseason Power Rankings in January. Based on her play in early 2010, Peer accumulated enough points to break into our top 10. Peer reached the quarterfinals of the Open GDF in Paris, falling to eventual finalist Safarova by a 6-3, 6-0 margin.
Peer also reached the semifinals in Auckland, losing to eventual champion Yanina Wickmayer, 6-4, 7-5. The Israeli reached the finals in Hobart, where she lost to Alona Bondarenko, 6-2, 6-4. She made it to the third round, losing to Wozniacki at the 2010 Australian Open.
Peer is playing this coming week in Dubai, where she was denied a visa and entrance into the tournament last year for political reasons. The tournament was fined for last year's actions, and the world will be watching to make sure the young woman from Israel is treated with dignity and respect—as all players in the field should be.
9. Victoria Azarenka (Last Power Ranking: 7; Current WTA Ranking: 6)
Last four tournaments: Australian Open [Quarterfinalist], Sydney [Semifinalist], Doha [RR 1-2], Beijing [R2].
Power Ranking Points: 234
Once again at the Australian Open, Azarenka had a terrific tournament until meeting the No. 1-ranked Williams in the quarterfinals. Even then, Azarenka won the first set and was up 4-0 in the second set before Williams came back to even the set and eventually win the second set tiebreaker. Williams closed it out in the third set.
Azarenka made it to the semifinals in Sydney, where she lost to eventual champion Dementieva, 6-3, 6-1. Battling injury for a great deal of 2009, Azarenka hopes to make further inroads into the top tier of women in 2010.
She is seeded No. 4 in Dubai and faces intense competition on her way to the quarterfinals, where she could meet No. 6 seed Jelena Jankovic. She will continue to work on her weak serve and her sometimes vagrant forehand.
However, expect the young lady from Belarus to continue to react with the fiery determination and explosive anger that highlight her great desire to win.
10. Venus Williams (Last Power Ranking: NR; Current WTA Ranking: 5)
Last four tournaments: Australian Open [Quarterfinalist], Doha [Finalist], Beijing [R 32], Tokyo [R32].
Power Ranking Points: 217
Venus Williams reached the quarterfinals at the Australian Open, where she met defeat at the hands of Li, 2-6, 7-6, 7-5. Williams just could not close out the determined Chinese woman.
Soon to be age 30, Williams seems to have the desire and the game to continue playing in the top 10. She will be defending her title this week in Dubai, seeded No. 3 behind No. 1 seed Wozniacki and No. 2 seed Kuznetsova.
Accused of having less of the "killer instinct" than her younger sister, the elder Williams will need all of that aggression and more to defend her title in this packed field, even without the top two seeds in action.
* Kim Clijsters (Last Power Ranking: 6; Current WTA Ranking: 17)
Last four tournaments: Australian Open [R 32], Brisbane [Winner], Luxembourg [R16], US Open [Winner].
Power Ranking Points: 189
Clijsters won the tournament in Brisbane, defeating her fellow countrywoman and former nemesis Justine Henin, but then she ran into a red-hot Nadia Petrova in the third round of the 2010 Australian Open. Seemingly flat-footed and slow, Clijsters suffered defeat in the dangerous third quarter of the draw. Many expected her to win this championship. It was not to be.
* Maria Kirilenko (Last Power Ranking: NR; Current WTA Ranking: 37)
Last four tournaments: Australian Open [Quarterfinalist], Auckland [Quarterfinalist], Moscow [Quarterfinalist], Osaka [R 32].
Power Ranking Points: 185
The Russian Kirilenko made her first quarterfinal Grand Slam appearance at the Australian Open in 2010. She hopes to be a player on the rise. Recently withdrawing in Thailand, Kirilenko is suffering from an adductor strain and hoping for a quick recovery and a quick return to action.
* Svetlana Kuznetsova (Last Power Ranking: 9; Current WTA Ranking: 4)
Last four tournaments: Australian Open [R 16], Sydney [Quarterfinalist], Doha [RR went 1-2], Beijing [Winner].
Power Ranking Points: 181
Kuznetsova lost to an on-fire Petrova in the fourth round, ending her hopes for a win at Melbourne. Seeded No. 2 in Dubai, Kuznetsova begins her campaign to win that tournament this week. She will be the defending champion at the French Open, and you cannot help but wonder what the effect of Henin's return will have on that prestigious tournament.
Our power rankings are based on our own unique formula. To read how the power rankings are derived, click here and read how Feng Rong calculates the totals. The next Women's Rankings will appear in two weeks on March 1.
Federer Outclasses Nadal in Shanghai Final
Sharapova Wins 1st Title Since Drug Ban
Nadal, Fed Will Match Up in Shanghai Finals
Clijsters to Serena: 'Follow Your Heart' on Pregnancy Return
Copyright © 2017 Bleacher Report, Inc. Turner Broadcasting System, Inc. All Rights Reserved. BleacherReport.com is part of Bleacher Report – Turner Sports Network, part of the Turner Sports and Entertainment Network. Certain photos copyright © 2017 Getty Images. Any commercial use or distribution without the express written consent of Getty Images is strictly prohibited. AdChoices
Turner Logo